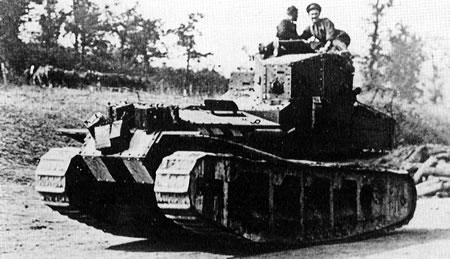 Last updated on March 10th, 2019 at 07:22 pm
The Medium A, or the Whippet, was the only British medium tank that ever saw action during World War I.
It was also known as the Tritton Chaser, because it was designed by Sir William Tritton.
The Whippet was produced by William Foster's factory, which was in Lincoln, England.
It was designed in November 1916, and production began in December 1916. The first trials were held in February 1917. In June, Britain ordered 200 tanks.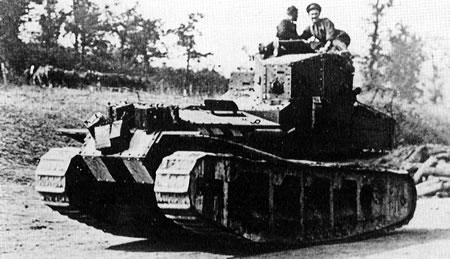 Operating the Medium A was very complicated.  The Whippet had a separate engine for each of its two tracks. Each of these engines was a 45 horsepower, 4-cylinder dual ignition engine from a Tyler truck.  One tank had two four-speed gearboxes and two clutches.  To steer the Whippet, the throttle on each engine had to be controlled, so that one track accelerated while the other decelerated.
The Medium A had a tank at the front which was shaped like a drum and contained 70 gallons of gasoline.  It used an autovac, a device which creates a vacuum, to carry fuel from this storage tank to the engines.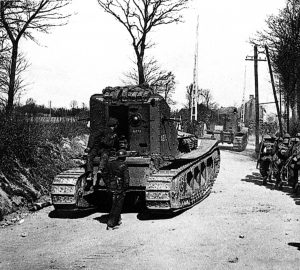 The Whippet had three periscope openings and three peephole covers.
It had two towing shackles.
Like the Little Willie, the Whippet had half-round tracks.
The Whippet saw action for the first time during the Second Battle of the Somme, at Hebuterne, on March 26, 1918.
Medium As performed very well until the end of the First World War.  Lieutenant Cecil Sewell received a Victoria Cross when he was in command of a Medium A designated Caesar II, A 253.
| | Medium A Tank |
| --- | --- |
| Active: | 1917 |
| Crew: | 3 |
| Weight: | 14 tons (14,225kg) |
| Length: | 20ft (6.1m) |
| Height: | 9ft (2.74m) |
| Width: | 8ft 7in (2.62m) |
| Weapons: | Main – 4 x 0.303in (7.7mm) Hotchkiss machineguns |
| Armor | Maximum – 0.55 in (14mm) |
| Engine: | 2 x Tyler JB4 gasoline, each developing 45hp |
| Speed: | 8 mph (12.9kph) |
| Range: | 40 miles (64.4 km) |