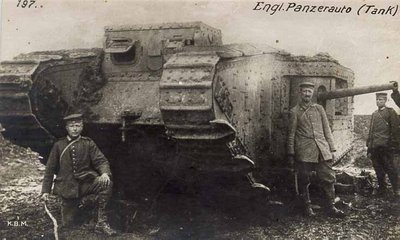 Last updated on February 17th, 2019 at 09:50 pm
Britain's 150 Mark I heavy tanks performed so well that Commander in Chief Field Marshal Sir Douglas Haig ordered 1,000 more tanks built.
The first 50 of these new tanks were Mark II heavy tanks, half of which were male and half of which were female.
Some minor improvements were made to the Mark II, based on the Mark I's experience in the Battle of the Somme.  To improve traction in the Mark II heavy tank, a wider track shoe – the chain that runs between the wheels and the ground – was added at every sixth track link.  The tail wheels were also removed.
These early tanks had very thin armor.  Armor was made by cutting and drilling soft steel and then hardening it.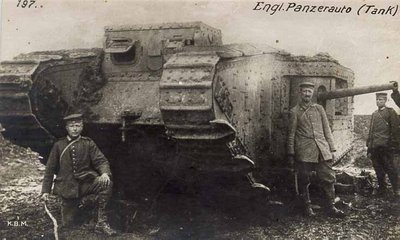 The Mark II had front armor plates that were only 0.394 inch (10mm) thick and side plates that were just 0.315 inch (10mm) thick.
These armor plates were riveted to angle irons and butt straps on the tank. There were gaps between the plates, and when the tank was fired upon, bullets would penetrate the tank and turn into molten lead, which was known as "splash."
To avoid being injured by splash, the crewmembers were given masks made out of steel, which had chainmail visors.  The crew found these masks uncomfortable, and they had trouble seeing out of them, so they didn't wear them. Instead, they hung blankets inside the tank, hoping that the blankets would absorb the splash.
The Mark III heavy tank was almost identical to the Mark II. The Mark III's armor was a little bit thicker than that of the Mark II.
As with the Mark II, 25 male Mark IIIs and 25 female Mark IIIs were built.
Later models of the Mark III had a short-barreled 6 pounder gun, which could fire either an armor piercing or high explosive shot.  The naval guns that were used in the earlier models were found to be too long to be efficient on land. The longer guns would become buried in mud or bang into trees.
| | Mark III Heavy Tank |
| --- | --- |
| Active: | 1917 |
| Crew: | 8 |
| Weight: | 28 tons (28,450kg) |
| Length: | 32ft 6in (9.9m) |
| Height: | 7ft 11in (2.41m) |
| Width: | 13ft 9in (4.19m) |
| Weapons: | Male – 2 x 6 pounder 2.24in (57mm) guns, Female – 2 x Hotchkiss 0.303 inch (7.7mm) machineguns |
| Armor | Maximum – 0.47 in (12mm) |
| Engine: | Daimler 6-cylinder gasoline, developing 150hp |
| Speed: | 3.7 mph (5.95 kph) |
| Range: | 22 miles (35.4 km) |