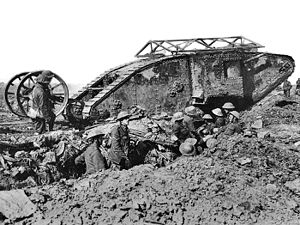 Last updated on March 9th, 2019 at 08:38 pm
In 1916, Tritton and Wilson, who also designed the Number One Lincoln Machine, or Little Willie, designed a tank that could mount a step that was 4 and a half feet (1.37 meters) high and cross a trench that was 8 and half feet (2.6 meters) wide,  as newly  required by the British War Office.
The prototype of this new tank, which was officially called the Mark I heavy tank when it was mass produced, was known by a number of different names during its lifetime. These included "Big Willie", HMLS Centipede (HMLS stood for "His Majesty's Landship") and "Mother" – because it was the first tank to be engaged in battle and therefore the "mother" of all battletanks. Big Willie was designed while Little Willie was being built.
To meet the War Office's demands, the tracks on the Mark I heavy tank were lengthened. This tank was given a rhomboidal shape, so it could climb over obstacles more easily.  All of the British tanks that were built later on during World War I retained this rhomboidal shape.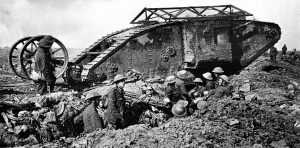 The main weapons, two naval six pounder guns, were mounted on the side of the tank, in half-turrets that were known as sponsons.  Eliminating the turret on the top of the tank helped to lower the tank's center of gravity.
Two tail wheels on the Mark I heavy tank were supposed to aid steering. A roof mounted frame made of chicken-wire was designed to protect the tank from grenades.
In 1916, the Ministry of Munitions ordered the production of 100 tanks identical to Big Willie.  Half of these Mark I heavy tanks were male and half were female. In female tanks, the six pounders were replaced with two extra machine guns. This made the female tanks approximately a ton lighter than the male tanks. Later on, this order was increased from 100 tanks to 150.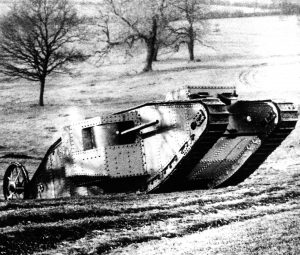 The Mark I Heavy Tank was the first tank to be known as a "tank".  When it was being designed and built, it was called a tank for security reasons, to disguise what it really was.  Allegedly, the British wanted others to believe that they were merely building a giant water tank.
Some Mark I Heavy Tanks were involved in the Battle of the Somme, which took place between July and November 1916.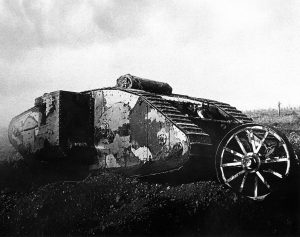 After the first battle between tanks took place at Villers Bretonneux in April 1918, the British realized that it was dangerous to have a tank that didn't have any weapons that could penetrate enemy tanks.  Because of this, they stopped making separate male and female tanks and instead built hermaphrodite tanks. Each of these tanks had one sponson with a 6 pounder gun and one with a dual machine gun.
| | Mark I Heavy (Male) |
| --- | --- |
| Active: | 1916 |
| Crew: | 8 |
| Weight: | 28 tons (28,450kg) |
| Length: | 32ft 6in (9.9) |
| Height: | 7ft 11in (2.41m) |
| Width: | 13ft 9in (4.19m) |
| Weapons: | Main – 2 x 6 pounder 2.24in (57mm) guns, Secondary – 0.303in (7.7mm) Hotchkiss machinegun |
| Armor | Maximum – 0.47 in (12mm) |
| Engine: | Daimler 6- cylinder Gasoline, 150hp |
| Speed: | 3.7 mph (5.95kph) |
| Range: | 22 miles (35.4 km) |