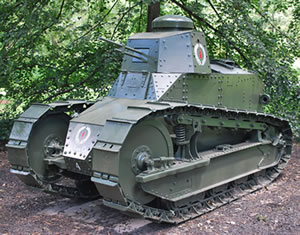 Last updated on February 17th, 2019 at 09:50 pm
The 6 Ton Tank, officially known as the M1917, was a copy of the French Renault FT-17 tank.
Because France and America had different engineering standards, many changes had to be made to the M1917s before they could enter service.
In the 6 Ton Tank, the steel-rimmed wooden idler wheels of the FT-17 were replaced with wheels that were made completely of steel.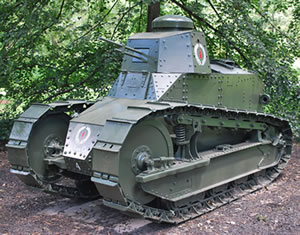 The 6 Ton Tank also had a self starter fitted to the engine and a bulkhead that separated the crew from the engine compartment.
When the M1917 was first being developed, it was called the 6 Ton Special Tractor for security purposes.
Only 64 M1917s were completed before the end of World War I, and only 10 of those ever arrived in France.
However, almost 1000 tanks were built overall and the 6 Ton Tank remained in service for a long time after the First World War. In 1939, these tanks were given to Canada to be used for training.
| | 6 Ton Tank |
| --- | --- |
| Active: | 1917 |
| Crew: | 2 |
| Weight: | 6.47 tons (6,574kg) |
| Length: | 16ft 5in (5.0m) |
| Height: | 7ft 7in (2.3m) |
| Width: | 6ft 3in (1.9m) |
| Weapons: | Main – 1.46in (37mm) canon or Colt 0.3in (7.62mm) machinegun |
| Armor | Maximum – 0.67in (17mm) |
| Engine: | Budu HU modifed 4-cylinder gasoline, 42hp |
| Speed: | 5.6 mph (9 kph) |
| Range: | 29.8 miles (48 km) |