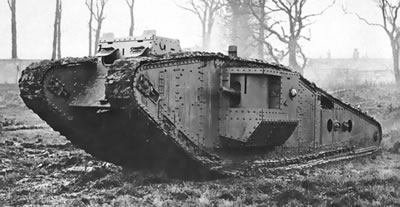 Last updated on February 17th, 2019 at 09:49 pm
The Third Battle of Ypres, also known as the Battle of Passchendaele, lasted from July 31 to November 6, 1917.  The Third Battle of Ypres is famous for being one of the bloodiest battles of World War I, with hundreds of thousands of soldiers on both sides being injured or killed.
British, French, Canadian, Australian, New Zealand, Indian and South African forces fought German forces for the control of Passchendaele, a town in Belgium near Ypres.
Most of the Third Battle of Ypres took place on muddy, swampy terrain, which was terrible for tank warfare.  Cold, heavy rains taking place at the time made things even worse. Tanks were constantly getting stuck in mud. Even though improved Mark IV tanks were now available, they were still poorly suited for the environment.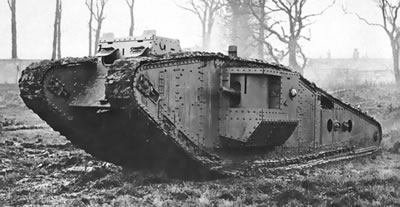 Based on this experience, tanks did not seem to have much of a future.
There was one instance, however, in which the potential for tanks to be extremely useful in combat was revealed.
On August 19, 1917, Allied forces attempted to attack St. Julien in Belgium.  However, they were blocked by a group of German pillboxes, or bunkers.
Infantry commanders estimated that an attempt to get past the bunkers would cause a thousand soldiers to be killed or injured.  Hoping to reduce the number of casualties, the commanders asked for tank assistance. 
Nine tanks were sent to help the infantry. Each tank was assigned to protect an infantry platoon, with a platoon following behind its tank in single file.
The tank-supported infantry was able to kill, drive out or capture all of the German garrisons.  The German soldiers in one pillbox deserted as soon as they saw the tanks. Instead of thousands of soldiers being injured or killed, only 27 British soldiers were wounded and only two were killed.
St. Julien showed that tanks could be used to destroy or scare away enemy forces while reducing the cost in human lives.
The Third Battle of Ypres ended on November 6, when the Canadian Corps was finally able to take Passchendaele.