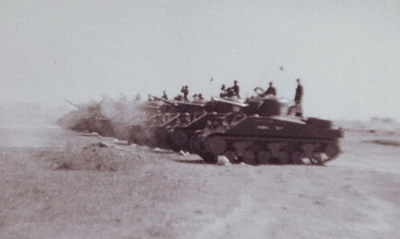 Last updated on February 17th, 2019 at 09:42 pm
The Battle of Chawinda, which took place during the 1965 Indo-Pakistani War, was one of the largest tank battles since the Second World War.
It has been claimed that as many as two thousand tanks took part in the battle, and that the Battle of Kursk has been the only tank battle that involved more tanks.  It is known that during the Battle of Chawinda, each side had at least several hundred tanks. Both the Pakistanis and the Indians had Sherman tanks. The Indians also had Centurion tanks, while the Pakistanis also had Patton tanks.
The battle took place in the Ravi-Chenab corridor, which connects Jammu and Kashmir with the Indian mainland. It lasted from September 6 to September 22, 1965.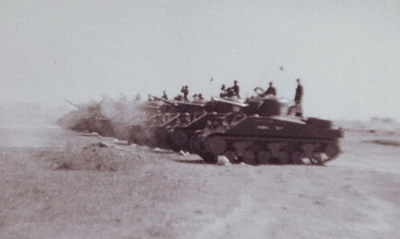 India's goal was to break up the Pakistani supply line by cutting off the city of Sialkot from the city of Lahore.
The plan was for the Indians to attack from the region around Samba, east of Jammu, move southwest, and cut off the road between Jammu and Sialkot.
On the night of September 6, Indian artillery began shelling Pakistani forces stationed on both sides of Jassar Bridge.  The Pakistani counterattack included blowing up part of the bridge.
The Indians captured some border villages on the night of September 7, while fighting was still going on at the bridge.
On September 8, Indian forces began moving toward Chawinda, in the Sialkot district. Pakistani aircraft fired at advancing Indian tanks but did not cause much damage to the tanks. Some tank against tank fighting then took place.
The Indian moved on to the Phillora region.  A huge tank battle took place there on September 11.  The Pakistanis were heavily outnumbered, and the Indians were able to capture Phillora.
Next, the Indians began moving toward Chawinda. They planned to capture Chawinda and gain control of the railway that ran from Pasrur to Sialkot.
Meanwhile, the Pakistanis received reinforcements.
On the way to Chawinda, the Indians captured the town of Zafarwal and then lost it.
The Pakistanis, now supplied with more Patton tanks, were able to prevent the Indians from reaching Chawinda for several days.
Fighting began around Chawinda on September 16.
The Indians incurred the most losses during the fighting. More than 120 Indian tanks were lost, while only about 40 Pakistani tanks were lost.
On September 21, Indian forces withdrew.
The following day, the UN Security Council called for a ceasefire.
The war ended on September 23.