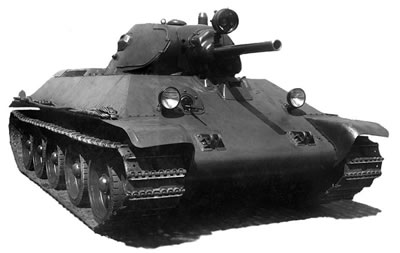 Last updated on February 17th, 2019 at 09:49 pm
The T-34/76 medium tank was the main Soviet medium tank used during World War II. During Operation Barbarossa, the attempted Nazi invasion of Russia, it was used successfully against German PzKpfw IIIs and PzKpfw IVs.
The Germans were so impressed with the T-34 that they decided to copy it. The German PzKpfw V Panther heavy tank was based on the T-34.
A crew of four manned the T-34/76A, which weighed almost 31 tons, had a Christie suspension and could travel at a maximum speed of 25 miles per hour (40 kilometers per hour).
The T-34 was easy to mass produce, an important advantage.
When the Soviets built model T-34/76D, they replaced the turret with a new hexagonal one. Earlier models had a turret with an overhang, which had created a trap for bullets.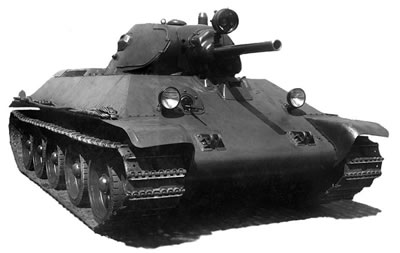 The overhanging turret had also given enemy soldiers an opportunity to climb onto the tank and place Teller mines underneath the back of the overhang. The new hexagonal turret on the T-34/76D did not have an overhang.
| | T-34/76 Medium |
| --- | --- |
| Active: | 1940 |
| Crew: | 4 |
| Weight: | 30.9 tons (31,390kg) |
| Length: | 20ft (6.09m) |
| Height: | 8ft 5in (2.57m) |
| Width: | 9ft 5.5in (2.88m) |
| Weapons: | Main – 3in (76.2mm) L41 gun, Secondary – 2 x 0.3in (76.2mm) machineguns |
| Armor | Maximum – 2.56in (65mm) |
| Engine: | V234 V12 diesel, 500hp |
| Speed: | 25mph (40kph) |
| Range: | 267.2 miles (430 km) |