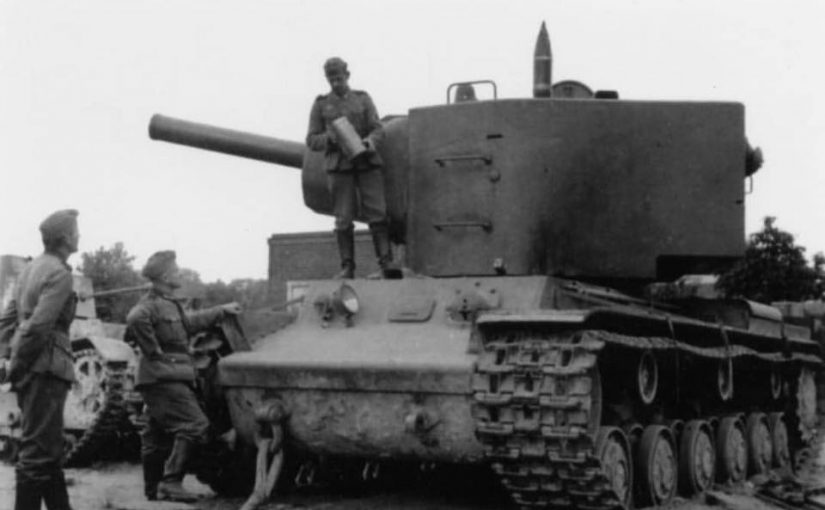 Last updated on April 3rd, 2019 at 10:56 pm
The KV-2 was designed to break through fortifications. It had an enormous turret which carried a gigantic 5.98 inch howitzer.
Anti-concrete shells the size of garbage cans were fired from the howitzer. These shells were used to knock down pillboxes and bastions.
As a specialized version of the KV-1, the KV-2 played a role similar to that of the British Funnies.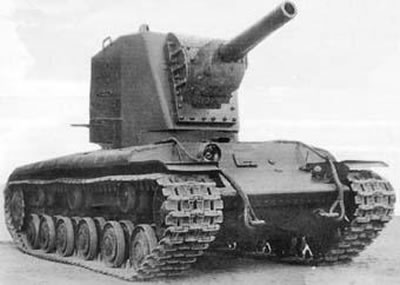 Because an extra hand was needed to operate the weapons, an additional crewmember stayed in the turret. This meant that the KV-2 had six crewmembers, while the KV-1 had five.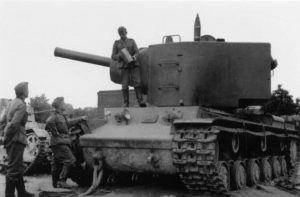 Even though it had a much heavier main gun, the KV-2 kept the same chassis and engine as the KV-1. This meant that it was even slower than the KV-1.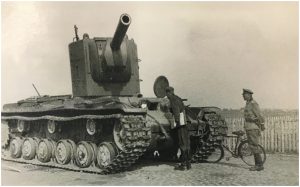 The Germans found that they could easily destroy the KV-2 by first aiming for its tracks, so that the tank could no longer move.
| | KV-2 |
| --- | --- |
| Active: | 1940 |
| Crew: | 6 |
| Weight: | 53.1 tons (53,963kg) |
| Length: | 22ft 3in (6.79m) |
| Height: | 12ft (3.65m) |
| Width: | 10ft 11in (3.32m) |
| Weapons: | Main – 5.98in (152mm) L/20 howitzer, Secondary – 2 x 0.3in (7.62mm) machineguns |
| Armor | Maximum – 4.33in (110mm) |
| Engine: | V2K V12 diesel, 550hp |
| Speed: | 16mph (26kph) |
| Range: | 93 miles (150 km) |