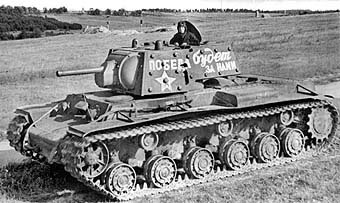 Last updated on February 17th, 2019 at 09:50 pm
When the KV-1 heavy tank entered World War II, out of all the Allied tanks, it and the Soviet T-34 were the best matches for the German tanks of the time.
The KV-1, which resembled the T-100 with one turret removed, first entered service in the Russo-Finish war in 1939. It was the first Soviet heavy tank with only one turret.
It was named after Marshal Klimenti Voroshilov, the Soviet defense commissar.
The KV-1 was replaced by a newer model, the KV-1A, in 1940. The KV-1A had a better gun than the original KV-1. The newer gun fired a larger round and had a higher muzzle velocity.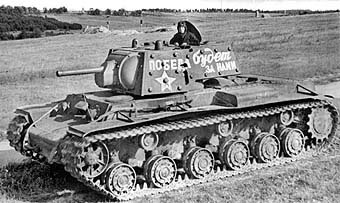 The Germans were so amazed by the firepower of the KV-1A, as well as by its armor, which was almost 3 inches thick, that they sent a diagnostic team to the front to analyze it and the T-34.
Despite these positive qualities, the KV-1 Heavy Tank was slow and hard to drive because it was so heavy and because its transmission was not reliable.
It was also very cramped inside. Visibility for the crew was poor.
The Soviets stopped producing the KV-1 heavy tank in 1943.
| | KV-1 |
| --- | --- |
| Active: | 1939 |
| Crew: | 5 |
| Weight: | 42.3 tons (43,000kg) |
| Length: | 21ft 11in (6.68m) |
| Height: | 8ft 11in (2.71m) |
| Width: | 10ft 11in (3.32m) |
| Weapons: | Main – 3in (76.2mm) L/41 ZiS 5-gun, Secondary – up to 4 x 0.3in (7.62mm) machineguns |
| Armor | Maximum – 2.95in (75mm) |
| Engine: | V2K V12 diesel, 550hp |
| Speed: | 21.7mph (35kph) |
| Range: | 93 miles (150km) |