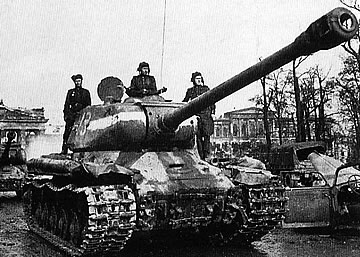 Last updated on February 17th, 2019 at 09:50 pm
The JS-2 Heavy Tank, which was also known as the Victory Tank, was an upgraded version of the JS-1, with a larger main gun.
Production of the JS-2 began at the end of December 1943. By the beginning of 1944, about 100 JS-2s were in service.
A 4.8 inch (122mm) main gun was fitted onto the JS-2, which had more powerful weaponry than any other tank when it first appeared.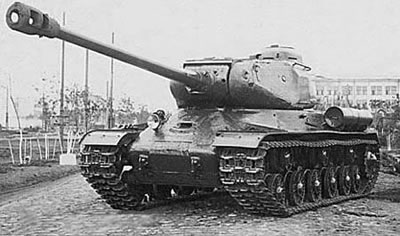 The JS-2 also had a smaller cupola than the JS-1 and its armor silhouette around the hull was different from that of the JS-1.
After the Soviets produced the JS-2, they went on to produce an even more advanced version of the JS series, the JS-3.
| | JS-2 |
| --- | --- |
| Active: | 1944 |
| Crew: | 4 |
| Weight: | 45.3 tons (46,000kg) |
| Length: | 32ft 6in (9.9m) |
| Height: | 8ft 11in (2.73m) |
| Width: | 10ft 2in (3.09m) |
| Weapons: | Main – 4.8in (122mm) D-25gun, Secondary – 3 x 0.3 inch (7.62mm) machineguns |
| Armor | Maximum – 4.72in (120mm) |
| Engine: | V2-IS 12-cylinder diesel, 510hp |
| Speed: | 23mph (37kph) |
| Range: | 149 miles (240 km) |