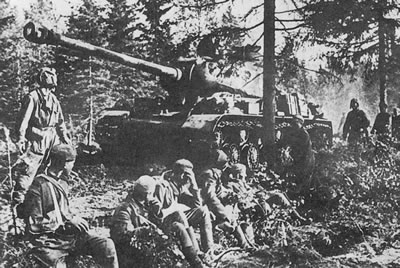 Last updated on February 17th, 2019 at 09:50 pm
The Germans developed a number of different tanks in response to the Soviet Union's KV-1 and T-34, and the Soviets, in turn, responded to these German developments by creating the JS (Joseph Stalin)-1 Heavy Tank.
Design of the JS -1 commenced in 1941.
The Soviets wanted the JS-1 to be a four-man tank that didn't weigh much more than the KV-1, but had a larger gun and enough armor to repel German anti-tank gun rounds.
Originally, the JS-1 was supposed to have a 3.35 inch (85 mm) gun as its main weapon, but by the time it went into service in 1943, this was changed to a 3.94 inch (100 mm) gun.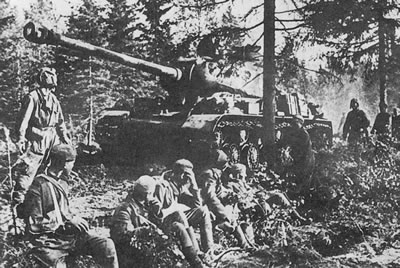 By placing a larger superstructure over a KV chassis, the Russians were able to place a larger turret ring and turret on the tank, which allowed them to fit a larger gun onto the JS-1.
The JS-1 had a low, streamlined silhouette and proved to be very reliable.
Toward the end of 1944, some of the JS-1s had their man guns changed to 4.8 inch (122mm) guns. The turrets on these tanks were replaced with larger turrets that would fit the larger guns.
| | JS-1 |
| --- | --- |
| Active: | 1943 |
| Crew: | 4 |
| Weight: | 45.3 tons (46,000kg) |
| Length: | 27ft 3in (8.32m) |
| Height: | 9ft 6in (2.9m) |
| Width: | 10ft 8in (3.25m) |
| Weapons: | Main – 3.94in (100mm) gun, Secondary – 2 x 0.3 inch (7.62mm) machineguns |
| Armor | Maximum – 5.2in (132mm) |
| Engine: | V2-IS 12-cylinder diesel, 510hp |
| Speed: | 24.9mph (40kph) |
| Range: | 155 miles (250 km) |