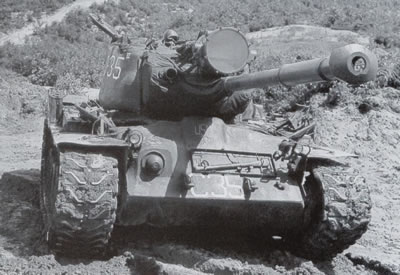 Last updated on February 18th, 2019 at 08:38 pm
The M46 Patton medium tank was an upgrade of America's M26 Pershing heavy tank. It had a new engine, a new transmission and a new M3A1 3.54 inch (90mm) main gun with a muzzle brake and bore evacuator.
Secondary armament on the M46 consisted of two 0.3 inch (7.62mm) machine guns – one coaxial and one in the bow – and a 0.5 inch (12.7mm) anti-aircraft gun.
The M46 Patton medium tank weighed 43 tons (44,000kg). Although the M46 was heavier than the M26 Pershing, it was designated a medium tank because of a change in the American tank classification system after World War II.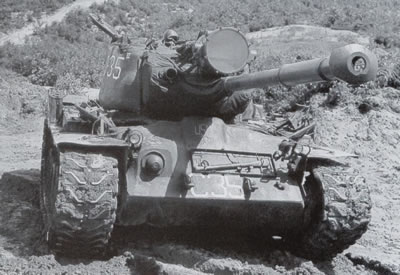 It had a torsion bar suspension with five pairs of road wheels and five track return rollers.
A crew of five – driver, assistant driver, commander, gunner and loader – operated the M46. The driver and assistant sat in the front of the hull – the driver on the right and the assistant on the left. The commander, gunner and loader sat in the turret. The commander and gunner sat in the right side of the turret, while the loader sat in the left side of the turret.
A variant, the M46A1, had an upgraded engine and transmission. It also had improved fire protection, braking and cooling systems.
The M46 was in service only from 1950 to 1957.
It saw combat in the Korean War, but in no other wars.
| | M46 Patton Medium |
| --- | --- |
| Active: | 1950 |
| Crew: | 5 |
| Weight: | 43 tons (44,000kg) |
| Length: | 27ft 9in (8.5m |
| Height: | 10ft 4in (3.2m) |
| Width: | 11ft 6in (3.5m) |
| Weapons: | Main – 3.54 inch (90mm) M3A1 gun, Secondary – 2 x .03 inch (7.62mm) machine guns – 1 coaxial, 1 in bow; 1 x 0.5 inch (12.7mm) anti-aircraft gun |
| Armor | Maximum – 4in (110mm) |
| Engine: | Continental AV-1790-5A 12-cylinder gasoline, 810hp |
| Speed: | 30 mph (48kph) |
| Range: | 81 miles (130 km) |