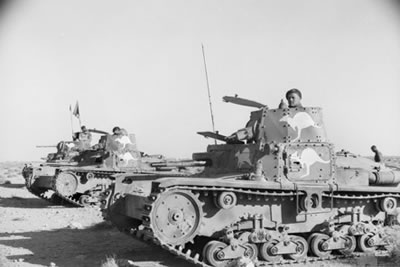 Last updated on February 17th, 2019 at 09:50 pm
The Carro Armato M13/40 Medium Tank was probably used more than any other Italian tank during World War II.
The M13/40 was modeled after the M11/39, but it had thicker armor and it was bigger.
It had a new high velocity 1.85 inch Ansaldo gun and three Breda machine guns instead of two. Of the three machine guns, two were mounted on the hull and one was coaxial. Some versions had a fourth anti-aircraft gun that was mounted on top of the turret.
The M13/40 was first engaged in battle during the first North African desert campaign. It suffered from mechanical failure when it was used in the desert. Better air and fuel filters had to be fitted in order to keep sand from getting into the machinery.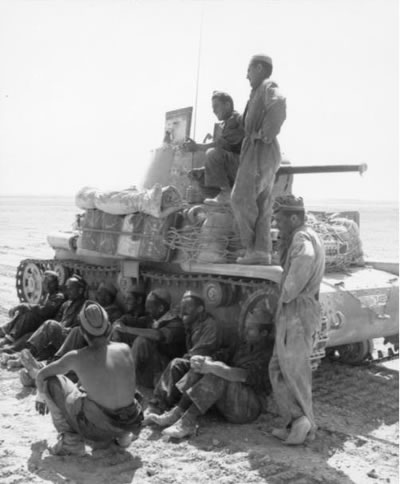 While the M13/40 had a very good gun, it was no match for Matilda IIs, British heavy infantry tanks.
When the 10th Italian Army was defeated at Beda Fomm/Sidi Saleh, Libya, in February 1941, over one hundred M13/40s were captured.
These were still in very good condition. The British 6th Royal Tank Regiment and the Australian 6th Cavalry took them for emergency use.
| | M13/40 Medium Tank |
| --- | --- |
| Active: | 1940 |
| Crew: | 4 |
| Weight: | 13.8 tons (14,000kg |
| Length: | 16ft 1in (4.90m) |
| Height: | 7ft 10in (2.39m) |
| Width: | 7ft 3in (2.21m) |
| Weapons: | Main – 1.85in (47mm) Model 7 L/32 Ansaldo gun, Secondary – 3 x 0.315 inch (8mm) Breda model 38 machineguns (1 coaxial, 2 hull-mounted) |
| Armor | Maximum – 1.65in (42mm) |
| Engine: | SPA 8 TMO40 V8 diesel, 125hp |
| Speed: | 20mph (32kph) |
| Range: | 124 miles (200 km) |