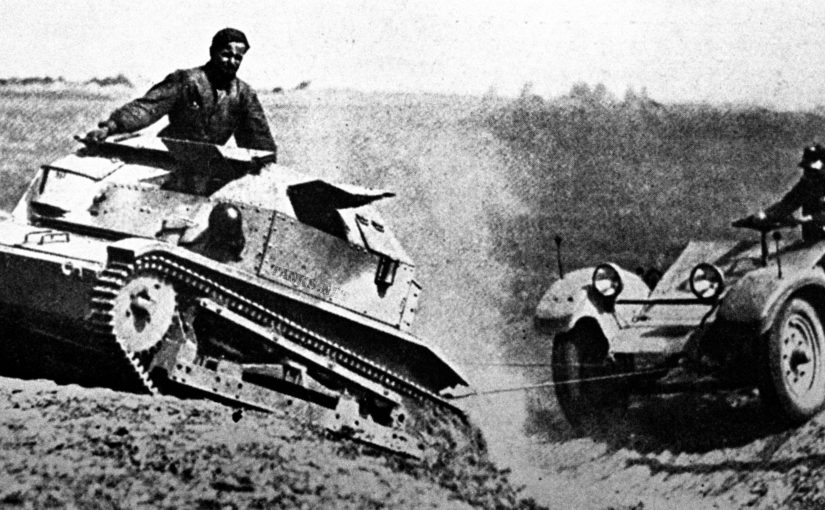 When the Germans invaded Poland in 1939 the TK3 and TKS Tankettes, small tanks, made up much of the Polish Army's armor, which was still largely supported by old fashioned cavalry horses.
The TK3 itself was based on the British Carden-Loyd Mark VI tankette, which the Polish military had been impressed with and obtained a license to make their own version with a few minor modification, such as softer suspension to make the ride a little smother for the occupants. The early stage of this Polish tank was the TK1, a prototype developed between 1929 ans 1930, and then the TK2 soon after. Both versions had an open top and were armed with a 7.92 mm (0.3 in) Hotchkiss wz.25 or wz.30 machine gun.
They had sloped armor that was good enough to stop large caliber bullets, but not tank shells and other heavier rounds, being less than a a quarter inch thick in most places, ranging from 0.16-0.28 inches overall.
By the the mid 1931 the TK3 had passed many quality and field tests and was developed with the top closed in and the armor slightly thicker at .31 inches. They also had the added feature of towing wheeled trailers, with its own driver, for varying purposes: carrying ammo and/or troops and even able to carry the tankette itself. The trailer was towed by the tankette across country, but on roads the trailer carried the tankette and was powered along by the tank engine, saving precious track mileage.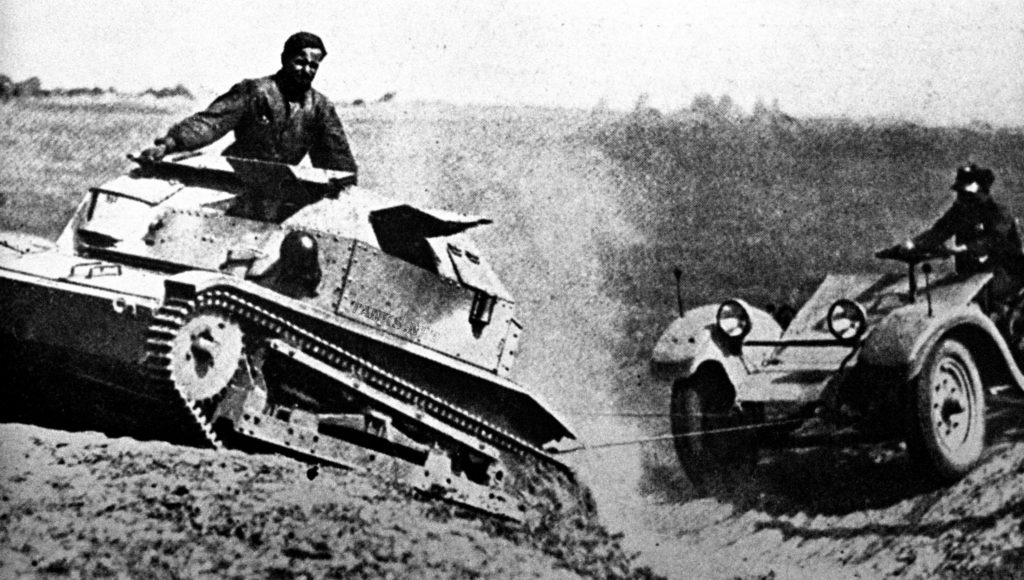 | | TK3 Polish Tankette |
| --- | --- |
| Active: | 1930-39 |
| Crew: | 2 |
| Weight: | 2.4 tons (2,177 kg) |
| Length: | 8ft 6in (2.58m) |
| Height: | 4ft 4in (1.32m) |
| Width: | 5ft 10in (1.78m) |
| Weapons: | 7.92 mm km wz.25 (Hotchkiss) machine gun 2000 rounds |
| Armor | 0.16-0.24in (4-6mm) |
| Engine: | Ford Model A, 4-cyl, 40 hp |
| Speed: | 29mph (46kph) |
| Range: | 124 miles road – 62 miles off road/200 and 100 km |