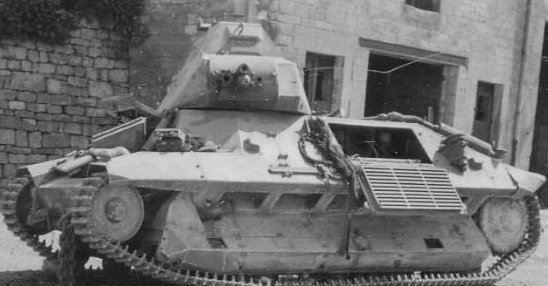 Last updated on February 17th, 2019 at 09:55 pm
France began building the FCM 36 infantry tank in 1936. It was designed to be a light infantry support tank.
The FCM 36 was the first French tank to use a diesel engine. The 8.4 liter Berliet water-cooled engine could reach a maximum speed of 15 miles per hour (24kph) and a had a maximum range of about 140 miles (225km)
A 1.46 inch (37mm) low-velocity gun was the FCM 36's main armament. This infantry tank also had a 0.297 inch (7.55mm) machine gun in an octagonal turret. This turret had a commander's position on top, which could not rotate.
The FCM 36 had welded armor. The upper half of the tracks had skirting plates with mud chutes.
Only one hundred FCM 36's were built because the French Army thought that it was too expensive to produce more.
These were produced between 1936 and 1939. They were in action from May through June 1940.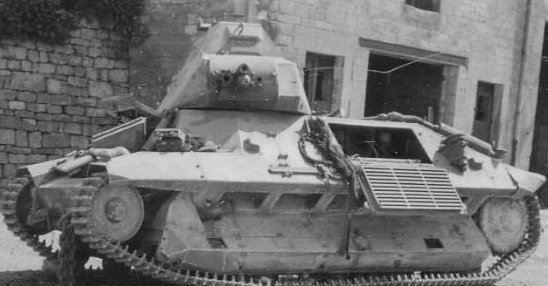 The firepower of the FCM 36 was not strong enough to provide an adequate defense against the Germans. Many of these tanks were captured. The Germans transformed them into gun carriages, as they had an impressive range. They took the Krupp 10.5cm/4.1in leFH18 gun and mounted it in an armored superstructure that was placed on top of the original chassis.
| | FCM 36 Tank |
| --- | --- |
| Active: | 1936 |
| Crew: | 2 |
| Weight: | 12.15 tons (12,350kg) |
| Length: | 13ft 10m (4.22m) |
| Height: | 7ft 0.61in (2.15m) |
| Width: | 6ft 4.75in (1.95m) |
| Weapons: | Main – 1.46in (37mm) gun, Secondary – 0.297in (7.55mm) machinegun |
| Armor | Maximum – 1.57in (40mm) |
| Engine: | Berliet 8.4 liter 4 cylinder diesl, 91hp |
| Speed: | 15mph (24kph) |
| Range: | 140 miles (225 km) |