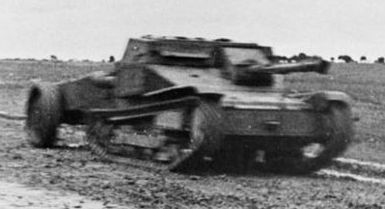 Last updated on February 17th, 2019 at 09:57 pm
The Carro Veloce L35/Lf Flamethrower Tankette differed from the Carro Veloce 33 in that it had a long-barreled hooded flamethrower instead of machine guns. In other respects, it was the same tankette.
The L35's flamethrower had a range of about 328 feet.
Lf stands for "lanciaflamme", the Italian word for flamethrower.
In the earliest model of the Carro Veloce L35/Lf versions, a 110 gallon armored fuel trailer was towed behind the tankette. In a later model, the fuel tank was mounted on the tankette's rear.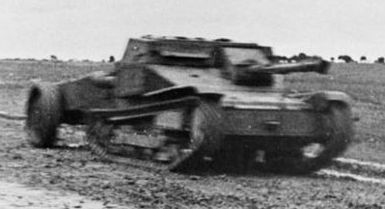 | | L35/Lf Flamethrower Tankette |
| --- | --- |
| Active: | 1933 |
| Crew: | 2 |
| Weight: | 3.2 tons (3,200kg) |
| Length: | 10ft 5in (3.18m) |
| Height: | 4ft 3in (1.3m) |
| Width: | 4ft 8in (1.42m) |
| Weapons: | Main – Flamethrower |
| Armor | Maximum – 0.55in (14mm) |
| Engine: | FIAT SPA CV3 4-cylinder gasoline, 42hp |
| Speed: | 26mph (42kph) |
| Range: | 78 miles (125 km) |