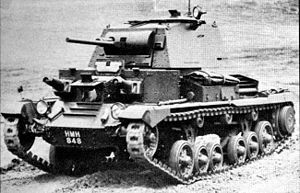 Last updated on March 29th, 2021 at 03:20 pm
The cruiser tank was developed out of a need for an intermediate vehicle between heavy and light. The light tanks were too weak and the heavy tanks were too slow.
The A9 was the first of the cruiser tanks, developed by Britain, and put into active service in 1938.
Sir John Garden designed the tank in 1934 and tests were run on the tank two years later, with production beginning a year after that in 1937.
The British were slow to develop new tanks between the wars, obviously not expecting a second world war so soon, so found themselves floundering a little, caught with their pants down as World War Two seemed more and more inevitable.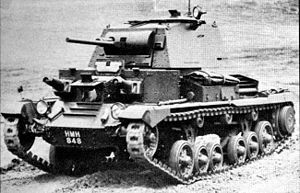 In the future they would not waste so much time, four years in this case, between design and production of their new tanks.
During their active service, between 1938 and 1941, only one hundred and twenty five of these tanks were produced.

Still, the A9 did utilize some praise-worthy technology such as its "slow motion" suspension and Newton Hydraulic shock absorbers with triple-wheel bogies on springs. The British also adopted the use of a standard, commercially available engine, in this case the 9.64 liter AEC bus engine, rather than build a unique engine that would have increased costs. The standardization of parts played a big role in the allied success of World War II.
The A9 Cruiser tank's main weapon was a 2 pounder, with three machineguns as secondary weapons – one of which was in the main hydraulic-powered turret while the other two had their own mini turrets.
However innovative the tank may have been, it was shown to have two major shortcomings during operations in France during 1940 – the armor was too thin and the speed was not up to the level of what was thought to be cruiser speed.
The tank's only exemplary successes were against the poorly developed Italian tanks in the deserts of North Africa. Unfortunately, however, the A9 was easily defeated by the far superior German tanks of the time.
| | Cruiser Mk I |
| --- | --- |
| Active: | 1938 |
| Crew: | 6 |
| Weight: | 12 tons (12,190kg) |
| Length: | 19ft (5.79m) |
| Height: | 8ft 4in (2.54m) |
| Width: | 8ft 4in (2.54m) |
| Weapons: | Main – 2 pounder gun, Secondary – 3 x 0.303 inch (7.7mm) Vickers machineguns |
| Armor | Maximum – 0.39-055in (10-14mm) |
| Engine: | AEC Type A179, 6-cylinder gasoline, 150hp |
| Speed: | 25mph (40kph) |
| Range: | 150 miles (241 km) |