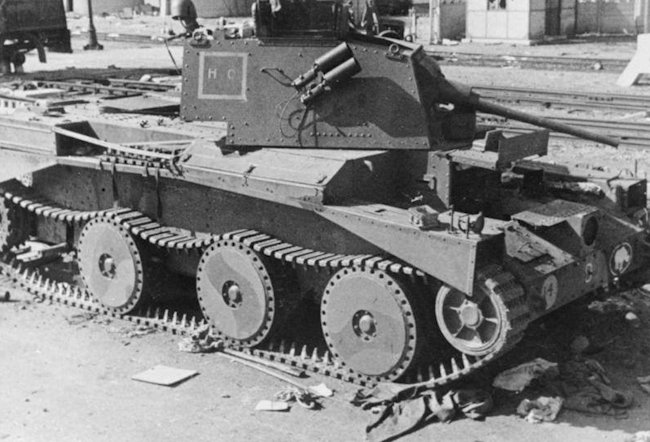 Last updated on February 17th, 2019 at 09:59 pm
The A13 was first conceived in 1936 as a response to the Russian Christie-type BT being used by the Red Army.
When the British War Office saw the Russian tank they asked designers at the Nuffield Organisation, a vehicle manufacturer in England, to create something similar and faster than the older A9 and A10.
The organization imported a Christie vehicle from America and based the design for the A13 directly form that, with the final build completed in 1938.
The A13 was one of the fastest tanks of its time, with a top speed of 30mph (48kph), because of its high power to weight ratio and good Christie suspension system. The gasoline engine was a Nuffield Liberty V12 , which could be started from battery power or by using a tank of compressed air, and gave the 40 ton tank 340hp.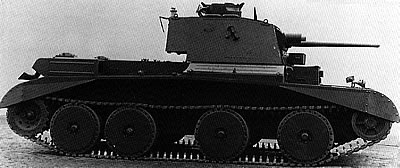 A13 Cruiser Tank was still in use at the start of WWII, by the 1st Armoured Division in France in 1940 and the 7th Armoured Division in the Western Desert. However, like most allied tanks of the time, it quickly proved inadequate against contempory German panzers.
| | A13 Cruiser Tank Mark III |
| --- | --- |
| Active: | 1938 |
| Crew: | 4 |
| Weight: | 14 tons (14,225kg) |
| Length: | 19ft 9in (6.02m) |
| Height: | 8ft 6in (2.59m) |
| Width: | 8ft 4in (2.54m) |
| Weapons: | Main – 2 pounder QFSA (quick-firing semi-automatic) gun, Secondary – 1 x coaxial 0.303 inch (7.7mm) Machinegun |
| Armor | Maximum – .55in (14mm) |
| Engine: | Nuffield Liberty V12 Gasoline, 340hp |
| Speed: | 30 mph (48 kph) |
| Range: | 90 miles (145 km) |