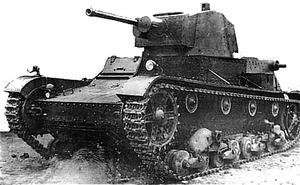 Last updated on February 17th, 2019 at 09:49 pm
Poland purchased the Vickers-Armstrong 6 Ton Mark E from the British, copied it and used it as the basis for their 7TP light tank.
The 7TP weighed 9.4 tons (9,550 kg) and had thicker armor than the Vickers-Armstrong 6-Ton tank.
Earlier versions of the 7TP light tank had twin turrets, each with a 0.312 (7.92mm) machine gun. Three men operated the tank: There was a driver as well as one man in each turret.
The 7TP used a Swiss Saurer 110 horsepower diesel engine that was built in Poland.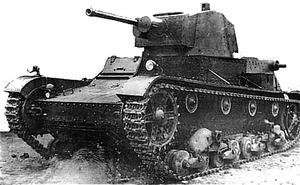 Model 7TP 2 had only one turret, which mounted a Bofors 1.46 inch (37mm) gun.
Model 7TP 3, which entered production in 1937, weighed 11 tons. It had a new engine and armor that was even thicker. It also had a new turret that was made in Sweden. The new turret hung over the rear of the tank. It mounted a 1.46 inch (37mm) Bofors high-velocity anti-tank gun as well as a coaxial 0.312 inch (7.92mm) machine gun.
The 7TP was used by the Poles during the German invasion of Poland in September 1939. The Germans captured some 7TPs, modified them and then put them to use.
| | 7TP Light |
| --- | --- |
| Active: | 1937 |
| Crew: | 3 |
| Weight: | 9.4 tons (9,550 kg) |
| Length: | 15ft 1in (4.6m) |
| Height: | 6ft 7.5in (2.02m) |
| Width: | 7ft 1in (2.16m) |
| Weapons: | Main – 1.46in (37mm) anti-tank gun, Secondary – 1 or 2 x 0.312 inch (7.92mm) machineguns |
| Armor | Maximum – 0.67in (17mm) |
| Engine: | Saurer 6-cylinder diesel, 110hp |
| Speed: | 19.9mph (32kph) |
| Range: | 99.4 miles (160 km) |