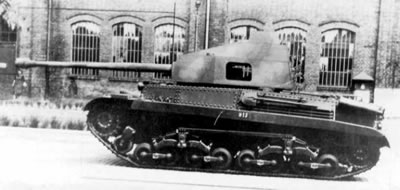 Last updated on February 17th, 2019 at 09:49 pm
The first tanks that Hungary ever used were Carro Veloce 33 tankettes that were purchased from Italy in the 1930s.
When World War II began, Hungary wanted to buy some tanks from Czechoslovakia, but Czechoslovakia was giving all their tanks to the Germans.
Therefore, Hungary obtained the rights to Czechoslovakia's Skoda L-21 medium tank and then modified it to create the Turan I medium tank.
The Turan I had a leaf spring suspension and used a Hungarian 8-cylinder 260 horsepower engine. Its main gun was a Skoda 1.58 inch (40mm) gun. Secondary armament consisted of two 0.315 inch (8mm) machine guns. One of these was coaxial, while the other was located in the hull.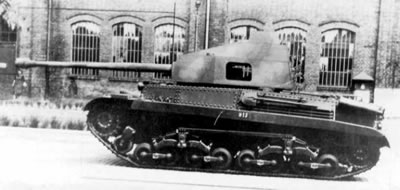 There was a five-man crew. The Turan I had a three-man turret with a radio. This replaced the two-man turret on the L-21.
The Turan II had a modified turret with a more powerful 2.95 inch (75mm) gun.
| | Turan II Medium Tank |
| --- | --- |
| Active: | 1943 |
| Crew: | 5 |
| Weight: | 18.2 tons (18,500kg) |
| Length: | 18ft 8in (5.69m) |
| Height: | 7ft 7.5in (2.33m) |
| Width: | 8ft 4in (2.54m) |
| Weapons: | Main – 2.95in (75cm) gun, Secondary – 2 x 0.315 inch (8mm) machineguns |
| Armor | Maximum – 1.97in (50mm) |
| Engine: | Weiss V8 gasoline, 260hp |
| Speed: | 29.2mph (47kph) |
| Range: | 102.5 miles (165 km) |