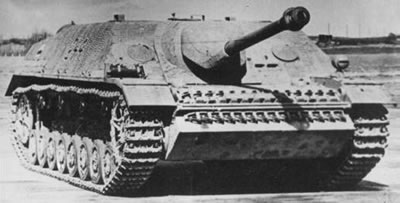 Last updated on February 17th, 2019 at 09:50 pm
The Jagdpanzer IV, which used the chassis of the PzKpfw IV, replaced the StuG III early in 1944.
The earliest model of the Jagdpanzer IV, which was essentially an upgrade of the StuG III, weighed almost 24 tons. It had a 2.95 inch (7.5 cm) PaK39 L/48 gun and carried 79 rounds.
Later versions were the Jagdpanzer IV/70 (V) and the Jagdpanzer IV/70(A). The "V" model was produced by Vomag, and the "A" model was produced by Alkett.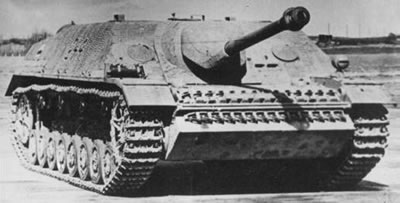 These newer models had new Vomag barreled 2.95 inch (7.5 cm) PaK42 L/70 main guns. They resembled the Panther in performance.
| | Jagdpanzer IV |
| --- | --- |
| Active: | 1943 |
| Crew: | 4 |
| Weight: | 23.6 tons (24,000kg) |
| Length: | 22ft 6in (6.85m) |
| Height: | 6ft 1in (1.85m) |
| Width: | 10ft 5in (3.17m) |
| Weapons: | Main – 2.95 in (7.5cm) gun, Secondary – 1 or 2 x 0.312 in (7.92mm) machineguns |
| Armor | Maximum – 3.94 in (100mm) |
| Engine: | Maybach HL 120 TRM V12 gasoline, 700hp |
| Speed: | 24.9mph (40kph) |
| Range: | 130.5 miles (210 km) |