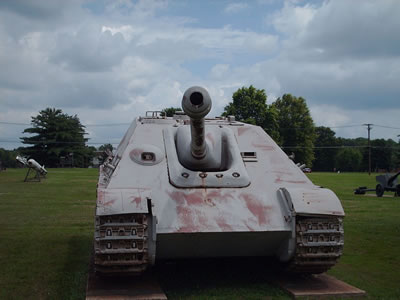 Last updated on February 17th, 2019 at 09:49 pm
The Jagdpanther heavy tank destroyer was a variant of the Panther heavy tank. It had a 3.46 inch (8.8 cm) Pak 43/3 L/71 gun that could pierce 7.17 inches (182 mm) of armor at a distance of 1,640 feet (400 meters.)
Despite weighing over 45 tons, the Jagdpanther could move quickly, with a maximum speed of 28.6 miles per hour (46 miles per hour).
The Jagdpanther was designed to be an improvement over the Elefant, which was really only effective at close range.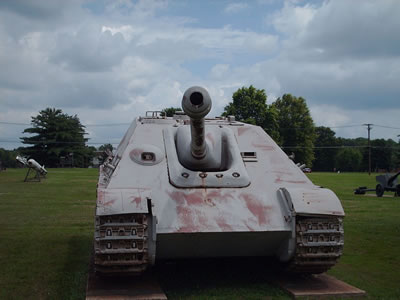 A prototype of the Jagdpanther heavy tank destroyer was built in 1943. Between January 1944 and March 1945, about 400 Jadgpanthers were built.
The Jagdpanther saw action in Normandy, during the Battle of the Bulge and during Operation North Wind.
| | Jagdpanther Tank Destroyer |
| --- | --- |
| Active: | 1944 |
| Crew: | 5 |
| Weight: | 45.3 tons (46,000kg) |
| Length: | 32ft 8in (9.9m) |
| Height: | 8ft 11in (2.72m) |
| Width: | 11ft 2.6in (3.42m) |
| Weapons: | Main – 3.46 inch (8.8cm) anti-tank gun, Secondary – 2 x 0.312 inch (7.92mm) machineguns |
| Armor | Maximum – 3.94 in (100mm) |
| Engine: | Maybach HL230P30 V12 gasoline, 700hp |
| Speed: | 28.6 mph ( 46 kph) |
| Range: | 99.4 (160 km) |