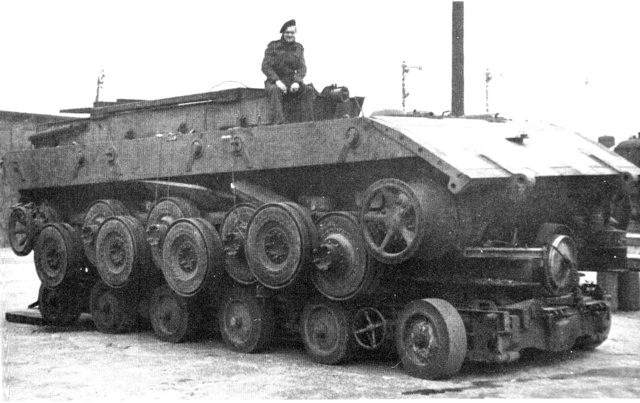 Last updated on May 29th, 2019 at 11:22 pm
In the middle of 1943, the Germans began developing a new series of tanks called the E-series.  The E-100 Super Heavy Tank was the most advanced tank in this series.
The Germans used everything they had learned about tank warfare when they began designing the E-series, which included the E-10, the E-25, the E-50 and the E-100.
By the end of World War II, only one E-series vehicle, an experimental version of an E-100, had been built.


This prototype was discovered by Allied forces in 1945, at the Henschel tank development center.  It looked like the Tiger Model B tank, but its armor plates were heavier, it was longer and wider, it had wider tracks and it had a new suspension system.
Although a turret was never fitted onto this E-100, it was supposed to have the same Krupp turret as the Maus, as well as the same weapons.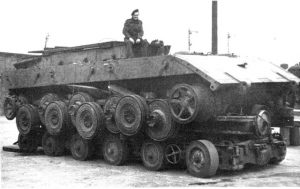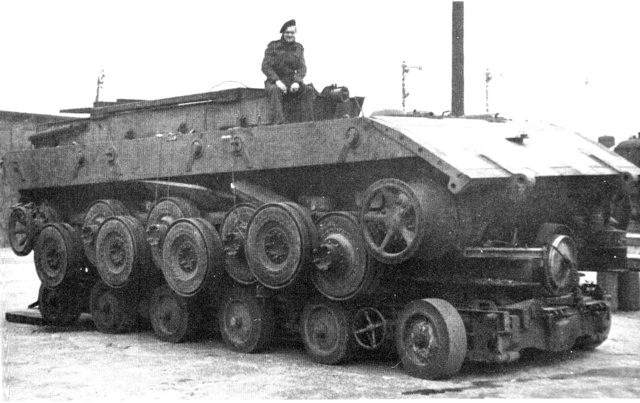 While a Tiger B H1 230 P30 engine was fitted to the E-100 for testing, the tank was designed to use a Maybach 12-cylinder "V" engine when in action.
The E-100 had a suspension that was made up of overlapping steel road wheels, with MAN disc springs, that were arranged in a series. The tank had a ground pressure of almost 20psi (1.4 kg/cm2).
| | E-100 Super Heavy Tank |
| --- | --- |
| Active: | 1945 (prototype) |
| Crew: | 5 |
| Weight: | 137.8 tons (140,000kg) |
| Length: | 33ft 8in (10.27m) |
| Height: | 10ft 10in (3.29m) |
| Width: | 14ft 8in (4.48m) |
| Weapons: | Main – 6.77 in (17.2cm) gun, Secondary – 2.95in (7.5cm) gun, 0.312in (7.92mm) machine gun |
| Armor | Maximum – 9.45 in (240mm) |
| Engine: | Maybach HL 234 V12 gasoline, 700hp (for trials) |
| Speed: | 24.9mph (40kph) |
| Range: | 74.6 miles (120 km) |