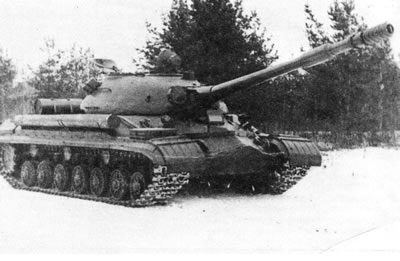 Last updated on February 19th, 2019 at 09:20 pm
The T-10 heavy tank was the last heavy tank produced by the Soviet Union.
It was based on the JS (Joseph Stalin) series of heavy tanks.
In 1948, the Soviet General Tank Directorate ordered the production of a new heavy tank, originally named the JS-8 (or IS-8 for "Iosif" Stalin).
This tank was built and then modified many times leading to the development of the JS-9 (or IS-9) and the JS-10 (or IS-10).
By the time it entered service in 1953, the JS-10 heavy tank had been renamed the T-10 heavy tank because of Stalin's death in March of that year.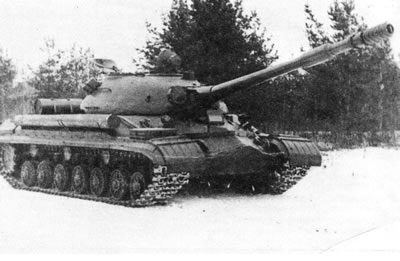 The T-10 heavy tank weighs 51 tons (52,000 kg) and has armor with a maximum thickness of 9.84 inches (250 mm).
Unlike the previous tanks in the JS series, which have six road wheels on each side, the T-10 has seven pairs of road wheels.
There are three track return roller on each side of the tank.
The drive sprocket is at the rear and the idler is at the front.
Main armament on the T-10 heavy tank consists of a 4.8 inch (122mm) D-25TA gun. For secondary armament, the T-10 has two 0.5 inch (12.7mm) DShKM machine guns. One is coaxial and the other serves as an anti-aircraft guns.
The T-10 heavy tank has a four-man crew: commander, driver, gunner and loader. The driver sits at the front of the tank. The commander, gunner and loader sit in the turret – the commander and gunner on the left and the loader on the right.
The engine and the transmission are at the rear of the hull.
A variant of the T-10, the T-10M heavy tank, was developed in 1957. It has a longer M-62-T2 L/43 main gun.
Instead of two 0.5 inch (12.7mm) DShKM machine guns, the T-10M has two 0.57 inch (14.5mm) KPVT machine guns – one coaxial and one anti-aircraft.
The T-10M heavy tank has infrared searchlights for night vision.
It is equipped with NBC protection – protection against nuclear, biological and chemical weapons.
As the Cold War progressed, the Soviets began to realize that it was better to spend their resources on a large number of general purpose main battle tanks instead of on a small number of heavy tanks.
Production of the T-10 heavy tank ceased in the 1960s, and no more heavy tanks were produced by the Soviet Union after that.
However, the T-10 heavy tank was still being used as late as the mid-1990s.
Syria and Egypt used T-10 heavy tanks during the 1967 Six Day War and during the 1973 Yom Kippur War.
| | T-10 Heavy |
| --- | --- |
| Active: | 1953 |
| Crew: | 4 |
| Weight: | 51 tons (52,000kg) |
| Length: | 23ft 1in (7m) |
| Height: | 7ft 11in (2.4m) |
| Width: | 11ft 8in (3.6m) |
| Weapons: | Main – 4.8in (122mm) D-25TA gun, Secondary – 1 x 0.5in (12.7mm) coaxial DShKM machine gun, 1 x 0.5in (12.7mm) DShKM anti-aircraft gun |
| Armor | Maximum – 9.84in (250mm) |
| Engine: | V -2-IS (V2K) 12-cylinder water-cooled diesel, 700hp |
| Speed: | 26 mph (42kph) |
| Range: | 155 miles (250 km) |