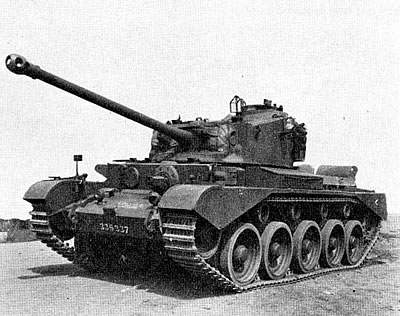 Last updated on February 17th, 2019 at 09:50 pm
The A34 Cruiser Tank Comet was the first British tank to begin to match the overall performance of Germany's PzKpfw V Panther.
It was designed to match German firepower, speed and protection, which the Cromwell and the Centaur could not do.
The Comet had a similar layout to the Cromwell, and kept many of the Cromwell's components and features.
Like the later models of the Cromwell, the Comet had an all-welded construction.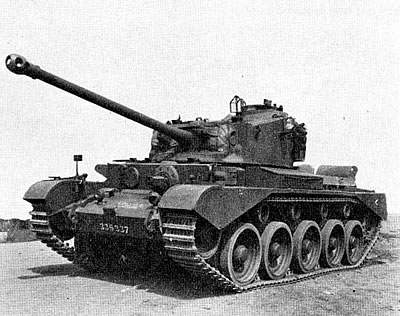 However, the Comet was almost 5 tons heavier than the last of the up-armored Cromwell models.
Like the Cromwell, the A34 had a Christie suspension, but the A34 had top rollers added. The four return rollers over the A34's road wheels made it easy to distinguish from the Cromwell.
A completely redesigned main gun was mounted to the Cromwell. Known as the 77m, although it was actually 76.2 mm (3 inches), it performed about as well as a 17 pounder, but was smaller and lighter.
While the Comet was reliable and fast – it moved well cross-county with a maximum speed of 29mph (47kmh) – it was introduced too late into the war to have a significant effect on tank against tank combat.
Although production deliveries began at the end of 1944, A34s were not issued to regiments until after the March 1945 Rhine Crossing.
During the later stages of the campaigns in northwest Europe, mines were becoming a greater threat and the Comet was criticized for retaining a hull gunner and having belly armor that was too thin. However, these flaws were ignored so that the tank could enter service as quickly as possible.
The Comet was the last of the British Cruiser tanks and the last British tank developed during the Second World War.
It remained in service until 1960, when it was succeeded by the A41 Centurion, considered to be the first universal tank.
| | A34 Cruiser |
| --- | --- |
| Active: | 1945 |
| Crew: | 5 |
| Weight: | 35 tons (35,560 kg) |
| Length: | 25ft 1.5in (7.66m) |
| Height: | 8ft 9.5in (2.68m) |
| Width: | 10ft (3.05m) |
| Weapons: | Main – 3 in (76.2mm) OQF (ordnance quick-firing) gun Secondary – 2 x 0.312in (7.92mm) Besa machineguns (1 coaxial, 1 hull-mounted) |
| Armor | Maximum – 3.98in (101mm) |
| Engine: | Rolls-Royce Meteor V12 Gasoline, 600hp |
| Speed: | 29 mph (47kph) |
| Range: | 123 miles (198 km) |