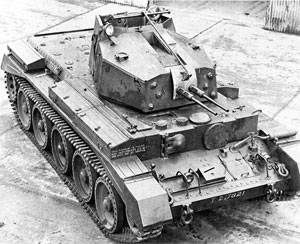 Last updated on February 17th, 2019 at 09:50 pm
The A27L Cruiser Tank Mark VIII Centaur was originally designed to have a Rolls-Royce Meteor engine. However, production shortages dictated that all of those engines that were produced had to be used in aircraft.
Therefore, the Centaur was fitted with a Liberty V12 engine.
Some A27Ls had their engines upgraded and were armed with 3.74in (95mm) howitzers. These were used by the Royal Marines during the D-Day landings, where they provided supporting fire from Landing Craft Tanks (LCTs).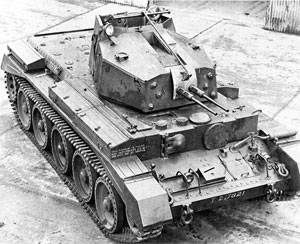 Other Centaurs (the Mark X) were retrofitted Meteor engines and upgraded to Cromwells.
Some Centaurs were also converted for special uses in the 1944-1945 northwest Europe Campaign. These included roles as Armoured Recovery Vehicles (ARVs), Observation Post (OP) vehicles, Dozers and Anti-Aircraft (AA) tanks.
| | A27L Cruiser Tank Mark VIII |
| --- | --- |
| Active: | 1942 |
| Crew: | 5 |
| Weight: | 28.4 tons (28,849kg) |
| Length: | 20ft 10in (6.35m) |
| Height: | 8ft 2in (2.49m) |
| Width: | 9ft 6in (2.9m) |
| Weapons: | Main – Mark I: 6 pounder OQF (ordnance quick-firing) gun; Mark IV: 3.74in (95mm) howitzer Secondary – 1 or 2 x 0.312in (7.92mm) Besa machineguns |
| Armor | Maximum – 2.99in (76mm) |
| Engine: | Nuffield Liberty V12 Gasoline, 340hp |
| Speed: | 27 mph (43.5 kph) |
| Range: | 165 miles (266 km) |