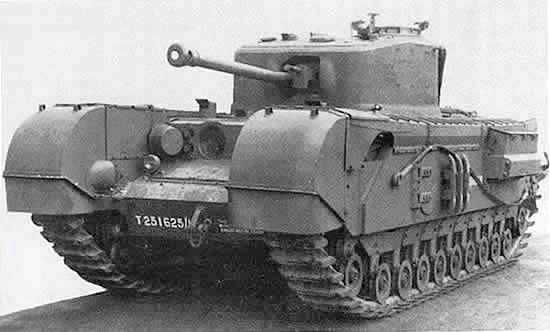 Last updated on February 17th, 2019 at 09:50 pm
The A22 Infantry Tank Mark IV Churchill was the first British tank to be designed entirely during World War II.
It remained in production throughout the war and was one of the most popular British tanks during the war.
The first model, which had a 3 inch (76.2 mm) close support howitzer in its nose and a 2 pounder gun in its turret, was built in 1941.
The Churchill had thick armor and performed well cross country, although it was slow.
It was the first British tank to mount US 2.95 inch (75 mm) guns after guns and mantlets were salvaged from Sherman tanks that were knocked out in Tunisia.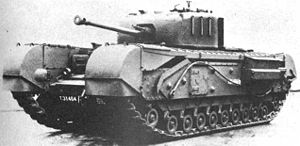 After Dunkirk, there were fewer than 100 tanks in the UK, so a consortium of companies worked together to quickly develop the tank.
Because they were built so quickly, there were many problems with the early A22s, including frequent breakdowns.
The size of this tank was limited by the loading gauge restrictions of the British railway.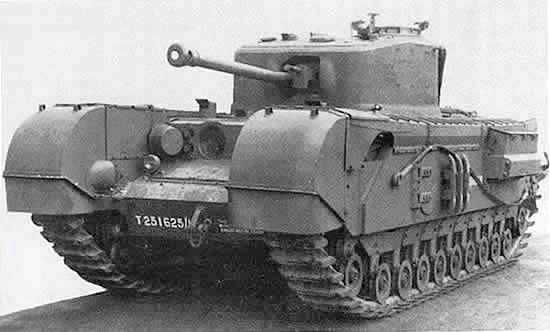 It was also too narrow to take the larger turret that was needed for the 17 pounder gun, a disadvantaged that was shared by other tanks of that time.
By 1944-45, the A22 was undergunned compared to German tanks, although its heavy armor compensated for this.
Nevertheless, the Churchill was very adaptable and was used for many different specialized roles during the 1944 invasion of Europe. These specialized tanks were known as the Funnies. They included:
Churchill Ark Mark I, Mark II and Mark III – These carried bridges and were used to span defense craters and ditches or to lay ramps across sea walls
Churchill Armoured Vehicle Royal Engineers (AVRE) Mark I and Mark II – They carried assault engineers who were sent to breach heavy defenses. The Churchill AVRE had an 11.42 inch (290mm) spigot mortar for demolition tasks as well as a two speed winch, an earth spade at the rear and demountable jibs at the front and rear
Churchill with Bobbin/Twin Bobbins – Had mat layers which were used at beach landings.
Churchill Anti-Mine Roller Attachment (AMRA), Anti-Mine Reconnaissance Castor Roller (AMRCR), Canadian Indestructible Roller Device (CIRD), Plough, Snake, Conger – These were used to detonate mines. They had various mine-clearing systems, which were usually front-mounted.
Churchill with Mine Plough (A-D, Farmer, Bullshorn/Jeffries Ploughs)
Churchill Oke/Crocodile -These had flamethrowers.
| | A22 Infantry Tank Mark IV |
| --- | --- |
| Active: | 1941 |
| Crew: | 5 |
| Weight: | Marks III-VI: 39 tons (39,626kg); Marks VII-VIII: 40 tons (40,624kg) |
| Length: | 24ft 5in (7.44m) |
| Height: | 10ft 8in (3.25m); Marks VII-VIII: 11ft 4in (3.45m) |
| Width: | 9ft (2.74m); Marks I-II: 8ft 2 in (2.49m) |
| Weapons: | Main – Mark I: 3 in (76.2mm) nose-mounted gun and 2 pounder turret-mounted gun; Marks III, IV: 6 pounder OQF(ordnance quick-firing) Mark III or V gun; Marks V, VIII: 3.74 in (95mm) gun; Marks VI, VII: 2.95 in (75mm) L/40 gun; Secondary – 1 or 2 x 0.312 inch (7.92mm) Besa machineguns, coaxial or hull-mounted |
| Armor | Maximum – 4.02in (102mm); Marks VI-VIII: 5.98 in (152mm) |
| Engine: | Bedford 12-cylinder Gasoline, 350hp |
| Speed: | 15.5 mph (25kph) |
| Range: | 120 miles (193 km) |