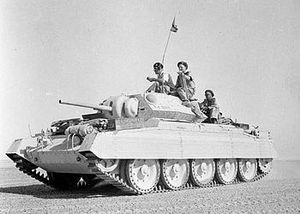 Last updated on February 17th, 2019 at 09:50 pm
The A15 Cruiser Tank Mark VI Crusader was the primary British tank from spring 1941 until the American Sherman tank arrived.
The A15 was built by Nuffields and was ready by March 1940. By 1943, 5,300 Crusaders had been produced.
To reduce costs and production time, as well as vehicle weight, Nuffields used many of the components of the A13 series, including the Liberty engine and the Christie suspension.
Like the A13 series, the A15 had a welded turret, a riveted hull and an extra outer layer of armor.
The Crusader was rushed into production and, when in action, was not very reliable.
It saw action for the first time in June 1941 near Fort Capuzzo, Libya, where it performed well against Italian armor.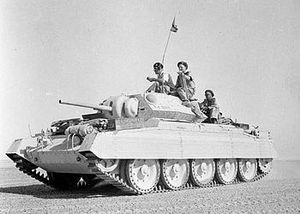 However, while it had a respectable speed, it was not a match for the German Panzer III or the German 3.46 inch (8.8 centimeter), 2.95 inch (7.5 centimeter) or 2.17 inch (5.5 centimeter) anti-tank guns.
In May 1943, the Crusader was withdrawn from the front line, but it continued to be used for training afterwards.
It was also converted for a number of special uses, which included:
Crusader III, Anti-Aircraft (AA) Mark I – The turret was replaced by one Bofors 1.57 inch (40 mm) anti-aircraft mount
Crusader III, Anti-Aircraft (AA) Mark II- This had a new enclosed turret with a twin 0.79 inch(20mm) Oerlikon AA cannon
Crusader III, Anti-Aircraft (AA) Mark III – This resembled the Mark II, but the radio equipment was installed in the hull rather than the turret
Crusader II, Gun Tractor Mark I – This had an open-topped box superstructure which transformed it into a fast tractor for a 17 pounder anti-tank gun and its crew
Crusader with Anti-Mine Roller Attachment (AMRA) – Used to clear land mines
Crusader Observation Post (OP) and Crusader Command – Extra radio and communications equipment, as well as a dummy gun, were added
Crusader Armoured Recovery Vehicle (ARV) – Additional recovery equipment was added and the turret was removed
Crusader Dozer – A winch and jib for working the dozer blade were added and the turret was removed.
| | A15 Cruiser Tank Mark VI |
| --- | --- |
| Active: | 1940 |
| Crew: | Mark III: 3, Mark VI:5 |
| Weight: | Mark I, II: 18.95 tons (19,255kg); Mark III: 19.75 tons (20.067kg) |
| Length: | Mark I, II: 19ft 8 in (5.99m); Mark III: 20ft 8 in (6.3m) |
| Height: | 7ft 4in (2.24m) |
| Width: | 8ft 8in (2.64m); Mark III: 9ft 2in (2.79m) |
| Weapons: | Main – Mark I, II: 2 pounder OQF (ordnance quick-firing) L/52 gun; Mark III: 6 pounder OQF gun Secondary – 1 or 2 x 0.312 inch (7.92mm) Besa machineguns |
| Armor | Maximum – 2.01in (51mm) |
| Engine: | Nuffield Liberty Mark III,IV: V12 Gasoline, 340hp |
| Speed: | 27 mph (44kph) |
| Range: | 100 miles (161 km) |