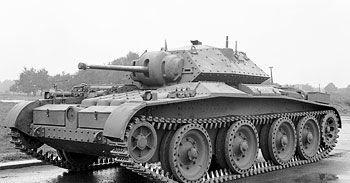 Last updated on February 17th, 2019 at 09:50 pm
The A13 Mark III Cruiser Tank Mark V Covenanter, which was built by the London, Midland and Scottish Railway Company, was in service from 1940 to 1943.
To reduce production costs, it used many of the parts for the A13 Mark II, on which its design was based.
A Meadows Flat-12 engine was built specifically for this tank, which also had a Christie suspension.
Unfortunately, the Covenanter was designed so that the cooling radiator was at the front, next to the driver, but the engine was at the rear.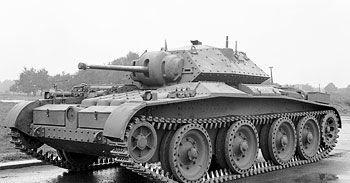 Consequently, the tank constantly overheated, which led to further mechanical problems.
Because of this problem, the tank never saw action. However, it was used for training.
Later versions had a different mantlet and a better system for cooling the engine as well as additional improvements.
Later variants included:
Covenanter CS – This was a close-support version. Instead of the normal 2 pounder, it was armed with a 3 inch (76.2 millimeter) howitzer.
Covenanter Observation Post (OP) Command – This had a dummy gun and additional radio equipment.
Covenanter Bridgelayer – Had a 34 foot (10.36 meter) bridge.
Covenanter with Anti-Mine Roller Attachment (AMRA) – A mine-clearing device, which set off mines by pressure, was pushed in front of the tank.
| | A13 Mark III Cruiser Tank Mark V |
| --- | --- |
| Active: | 1940 |
| Crew: | 4 |
| Weight: | 18 tons (18,298kg) |
| Length: | 19ft (5.8m) |
| Height: | 7ft 4in (2.24m) |
| Width: | 8ft 7in (2.62m) |
| Weapons: | Main – 2 pounder OQF (ordnance quick-firing) gun Secondary – 1 x coaxial 0.312 inch (7.92mm) Besa machinegun |
| Armor | Maximum – 1.57in (40mm) |
| Engine: | Meadows DAV1 12-cylinder Gasoline, 300hp |
| Speed: | 31 mph (50kph) |
| Range: | 100 miles (161 km) |