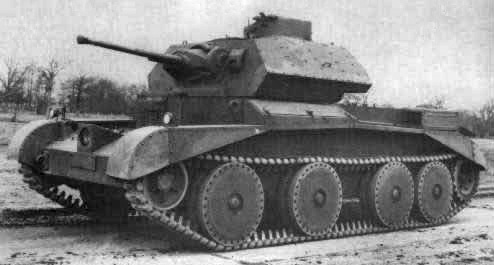 Last updated on February 17th, 2019 at 09:50 pm
The A13 Mark II was the bulkier big brother of the A13, with added armor for better protection that was made from special steel plates positioned to eliminate shot traps. An example of this was the v-shaped plates added to the turret to deflect strikes, where the previous tank's turret was a flat surface. However, some of the older A13's were given this special turret profile before they were superseded.
The extra armor, being steel and made from hollow shapes, did not add significantly to the overall weight of the tank, so the V12 Nuffield Liberty engine performed pretty much the same as it had on the older tank, still giving a top speed of 30mph (48kph).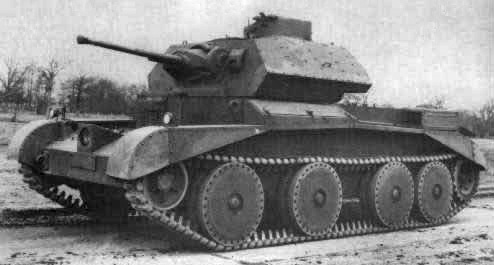 A13 Mark II Cruiser Tank Mark IV began production in 1938 and entered service in 1940 in France and was also used in the Western Desert form 1940 to 1941.
This tank wasn't hopeless as an anti-tank weapon with its 2 pounder OQF L/52 gun, 655 of them were built in all. However, like its predecessor, it still found itself outmatched by superior German technology and high-explosive rounds.
| | A13 Mark II Cruiser Tank Mark IV |
| --- | --- |
| Active: | 1940 |
| Crew: | 4 |
| Weight: | 14.8 tons (15,040kg) |
| Length: | 19ft 9in (6m) |
| Height: | 8ft 6in (2.59m) |
| Width: | 8ft 6in (2.59m) |
| Weapons: | Main – 2 pounder OQF (ordnance quick-firing)L/52 gun – Mk IVCS (close support) 3.7in (94mm) howitzer, Secondary – 1 x coaxial 0.303 inch (7.7mm) or 0.312in (7.92mm) Besa or 0.303in (7.7mm) Vickers Machinegun |
| Armor | Maximum – 1.18in (30mm) |
| Engine: | Nuffield Liberty V12 Gasoline, 340hp |
| Speed: | 30 mph (48 kph) |
| Range: | 90 miles (145 km) |