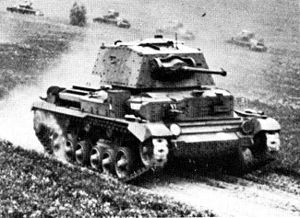 Last updated on February 17th, 2019 at 09:50 pm
The A10 was designed by the same person who created the A9, Sir John Carden, and sported a number of similar features.
Like many early WWII tanks of Britain, it was a bit slapdash in its build quality.
For instance, it had the same turret and hull design of its predecessor only it had the two secondary turrets removed and additional armor added by simply riveting plates over the top of the original armor on the hull and turret. This was done to try and overcome the woefully thin armor of the A9 and was the first British tank to be made of a composite design, rather than starting with new blueprints.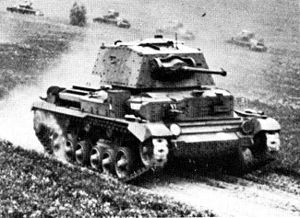 By September of 1940 there were seventy-five A10's in operation. They were used in France by the 1st Armoured Division in 1940, and in the Western Desert up to 1941.
As one would expect, this machine was still too slow. In fact it was even slower than the previous version due to the added armor, which itself was still too thin to withstand attacks from German panzers.
| | Cruiser Mk IIA |
| --- | --- |
| Active: | 1940 |
| Crew: | 5 |
| Weight: | 13.75 tons (13,970kg) |
| Length: | 18ft 1in (5.51m) |
| Height: | 8ft 6in (2.59m) |
| Width: | 8ft 4in (2.54m) |
| Weapons: | Main – 2 pounder QFSA (Quick Firing Semi-Automatic) L/52 gun, Secondary – 2 x 0.31 inch (7.92mm) Besa |
| Armor | Maximum – 0.87 – 1.18in (22-30mm) |
| Engine: | AEC Type A179, 6-cylinder gasoline, 150hp |
| Speed: | 16.16mph (26kph) |
| Range: | 100 miles (161 km) |