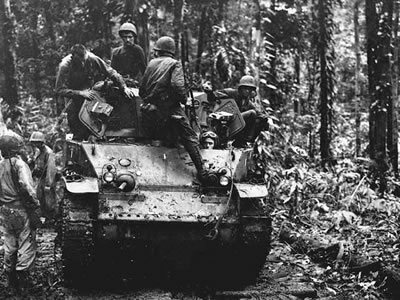 Last updated on February 17th, 2019 at 09:50 pm
When the M3 light tank series was being produced, America needed radial engines to power aircraft. There was a concern that there would not be enough radial engines for all the airplanes that were being built, so the US decided to try to find other types of engines to power tanks.
The M5 light tank was based on an experimental model of the M3A3, which was powered by twin Cadillac automobile engines.
Weighing 14.7 tons (14,936 kilograms), the M5 light tank could travel at a speed of up to 37 miles per hour (60 kph).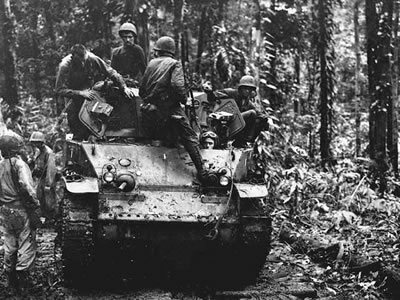 In the M5, the rear deck was raised so that the two Cadillac engines would fit inside the tank.
The first M5 light tank was built in March 1942. It was officially known as the Stuart VI by the British. It shared the nickname Honey with the light tanks in the M3 series.
There was no M4 light tank – only the M3 and the M5. It was decided that the M4 light tank designation would be skipped so that there would be no confusion with the M4 Sherman medium tank, which was being built at the same time.
| | M5 Light |
| --- | --- |
| Active: | 1942 |
| Crew: | 4 |
| Weight: | 14.7 tons (14,936kg) |
| Length: | 14ft 3in (4.34m) |
| Height: | 7ft 7in (2.31m) |
| Width: | 7ft 5in (2.26m) |
| Weapons: | Main – 1.46in (37mm) M6 gun, Secondary – 3 x 0.3in (7.62mm) machineguns |
| Armor | Maximum – 2.52in (64mm) |
| Engine: | 2 x Cadillac series 42 V8, 110hp each |
| Speed: | 37 mph (60 kph) |
| Range: | 100 miles (161 km) |