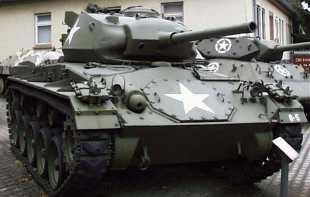 Last updated on February 17th, 2019 at 09:49 pm
The M24 Chaffee light tank was designed to be a replacement for the M5 Light tank.
It was  named after Major General Adna Romanza Chaffee, Jr.,  who played an instrumental role in developing the United States' armored force.
The main armament on the M24 was a 2.95 inch (75mm) gun that was adapted from the B-25G Mitchell bomber's heavy aircraft cannon.
Although it was originally designed to carry a crew of five men, manpower shortages during World War II often meant that the crew was reduced to four, with the co-driver/radio operator also loading the gun.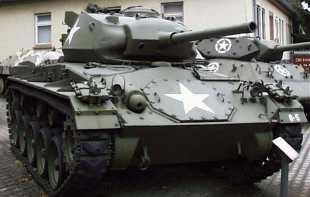 While the Chaffee could not stand up against heavy German tanks, it was very effective against smaller tanks.
A number of variants of the M24 were built,  including the M19 GMC (Gun Motor Carriage), an anti-aircraft model with twin 1.58 inch (40mm) guns and the M41 HMC (Howitzer Motor Carriage), a mortar carriage which mounted a 6.1 inch (155m) M1 howitzer.
The M24 Chaffee Light Tank remained in service after World War II. It saw action during the beginning of the Korean War, where it proved to be no match for North Korea's T-34/85 tank.
| | M24 Chaffee Light Tank |
| --- | --- |
| Active: | 1944 |
| Crew: | 5 or 4 |
| Weight: | 18 tons (18,289kg) |
| Length: | 18ft (5.49m) |
| Height: | 8ft 1in (2.46m) |
| Width: | 9ft 8in (2.95m) |
| Weapons: | Main – 2.95in (75mm) M6 gun, Secondary – 1 x 0.5 in (12.7mm) and 2 x 0.3 inch (7.62mm) machineguns |
| Armor | Maximum – 1.5in (38mm) |
| Engine: | 2 x Cadillac 442T4 V8, 110hp each |
| Speed: | 34 mph (55 kph) |
| Range: | 175 miles (282 km) |