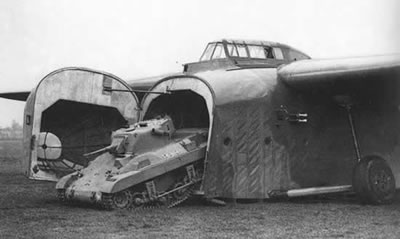 Last updated on February 17th, 2019 at 09:49 pm
The M22 Locust light tank was designed in the United States by the American engineer Walter Christie. Although it was an American-made tank, the Locust was never used by American forces. It was shipped to Britain as part of the Lend-Lease program and used by the British during World War II.
Armament on the Locust included a 1.46 inch (37mm) M6 main gun and a coaxial 0.3 inch (7.62mm) machine gun.
M22s were issued to Britain's 6th Airborne Armoured Reconnaissance Division, who used them along with the Tetrarch, a British light tank.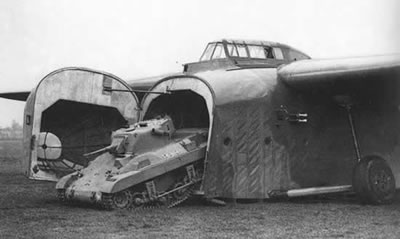 Both the Tetrarch and the Locust were carried in British Hamilcar gliders, and both of these tanks were used during the March 1945 Rhine crossing.
The M22 was too light to be very effective in battle.
One M22 was converted to an airborne light tractor, known as the T10 light tractor, which was supposed to carry five men. However, the T10 light tractor was never mass produced, as the project was halted in 1943.
| | M22 Locust Light |
| --- | --- |
| Active: | 1941 |
| Crew: | 3 |
| Weight: | 7.3 tons (7,417kg) |
| Length: | 12ft 11in (3.94m) |
| Height: | 5ft 8in (1.73m) |
| Width: | 7ft 4in (2.24m) |
| Weapons: | Main -1.46in (37mm) M6 gun, Secondary – 0.3 in (7.62mm) machinegun |
| Armor | Maximum – 0.98in (25mm) |
| Engine: | Lycoming 0-435T 6-cylinder radial, 162hp |
| Speed: | 40mph (64kph) |
| Range: | 135 miles (217 km) |