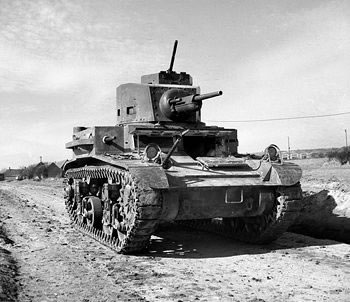 Last updated on February 17th, 2019 at 09:50 pm
America had four main types of light armored fighting vehicles (AFVs) just before World War II began in Europe. These were Combat Cars M1 and M2, which were used by the cavalry, and Light Tanks M2A2 and M2A3, which were provided to the infantry. The design of all four of these vehicles was derived from that of the T2 tank series, so all four AFVs were very similar.
As the M2A2 was being developed, many different models were developed, all of which were about the same size and weight. Every M2A2 light tank, as well as every M2A3, had a twin turret, which earned these tanks the nickname "Mae Wests", after the buxom American actress. However, some models of the M2A2 light tank had petrol engines, while others had diesel engines.
Some of the M2A2 models, including the M2A2E3 had modified suspensions. The M2A2E3 also had a trailing idler wheel.
Light tank M2A3, which was developed in 1938, was an upgraded version of the M2A2. It had thicker armor, a longer track base and a more efficient engine. The M2A2E3, the final model of the M2A2, had a better suspension as well as a trailing idler.
The M2A4 light tank was the final model of the M2 light tank series. In 1939, the prototype of the M2A4 was completed at Rock Island Arsenal in Illinois. The tank entered service in 1940.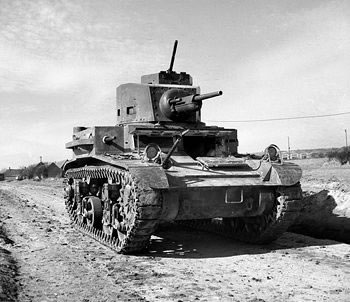 With only one seven-sided turret, which could be rotated all the way around manually, the M2A4 was the first of the light tanks that had a main armament larger than a machine gun. This was a 1.46 inch (37mm) M5 tank gun that could pierce 1 inch (25.4mm) of armor at 1,000 yards (914m). The tank carried 103 rounds of ammunition for this gun.
Thicker armor at the front and at the sides of the hull caused the M2A4 to weigh more and therefore to move more slowly than the M2A2 and the M2A3.
The design of the M3 light tank, which was nicknamed the Honey and was designated the Stuart by the British army, was based on that of the M2A3.
| | M2A4 Light Tank |
| --- | --- |
| Active: | 1940 |
| Crew: | 4 |
| Weight: | 12 tons (12,193kg) |
| Length: | 14ft 7in (4.45m) |
| Height: | 8ft 3in (2.52m) |
| Width: | 8ft 4in (2.54m) |
| Weapons: | Main – 1.46in (37mm) gun, Secondary – 4 x 0.3 inch (7.62mm) machineguns |
| Armor | Maximum – 0.98in (25mm) |
| Engine: | Continental 7-cylinder radial, 250hp |
| Speed: | 34mph (54.7kph) |
| Range: | 130 miles (209 km) |