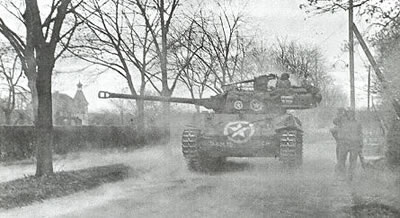 Last updated on March 26th, 2021 at 07:24 pm
The M18 Hellcat tank destroyer was fast and light. It could reach a speed of 55 miles per hour (89 kph) and weighed less than 18 tons.
It moved well cross-country.
The Hellcat was very active in Italy and Northwest Europe. It was extremely effective, and knocked out many enemy tanks.
The M18 had the same armament as the M10 Wolverine. Its main gun was a 2.99 inch (76mm) M1 gun as its main armament, and it had a 0.5 inch (12.7mm) machine gun for use at close range.
However, the M18 was much lighter and much quicker than the M10.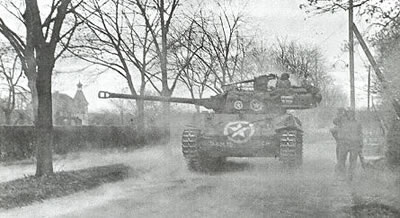 The Hellcat's turret was redesigned, giving it a lower silhouette.
Between July 1943 and October 1944, 2,507 M18s were built.
| | M18 Hellcat Tank Destroyer |
| --- | --- |
| Active: | 1943 |
| Crew: | 5 |
| Weight: | 17.9 tons (18,187kg) |
| Length: | 21ft 10in (6.66m) |
| Height: | 8ft 5in (2.57m) |
| Width: | 9ft 9in (2.97m) |
| Weapons: | Main – 2.99in (76mm) M1gun, Secondary – 0.5in (12.7mm)machinegun |
| Armor | Maximum – 0.47in (12mm) |
| Engine: | Continental R-975 9-cylinder radial, 400hp |
| Speed: | 55mph (89kph) |
| Range: | 150 miles (241 km) |