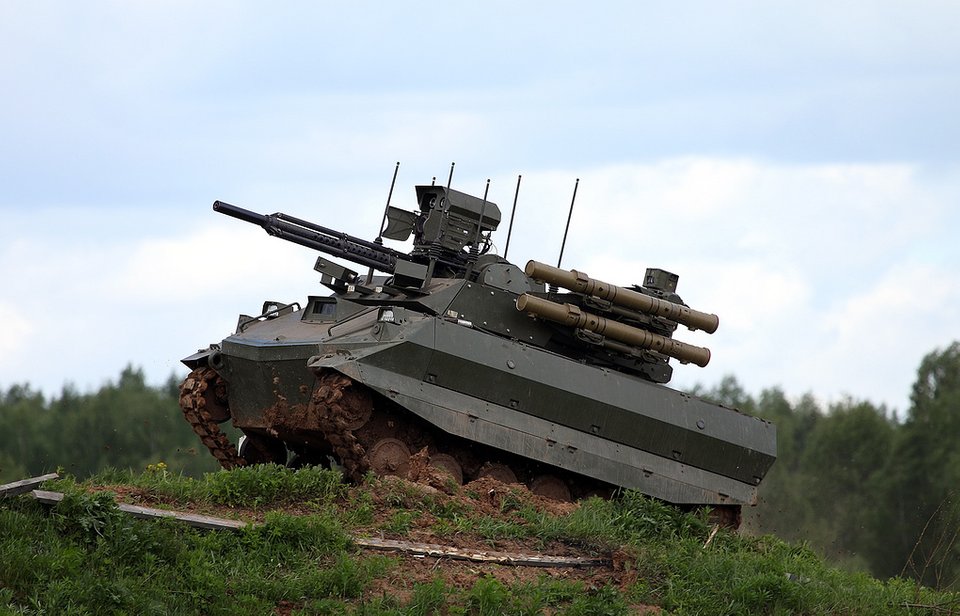 Last updated on February 19th, 2019 at 11:02 pm
Russia's Uran-9 Robot Tank began development in 2016 after an announcement by Rosoboronexport (part of the Rostec State Corporation) at the end of 2015 and first saw active combat during the War in Syria in 2018 and was officially adopted into the Russian  Army in January 2019.
The Russian Ministry of Defense saw the automated tank as a foothold into the future, a new way of looking at modern warfare – a lighter, more agile tank with a 30mm autocannon, 7.62mm machine gun and anti-tank rockets, all in a vehicle with no personnel on board.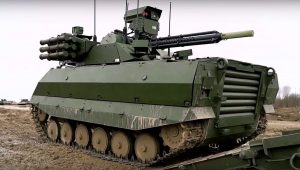 However, during service in the Syrian civil war in 2018 it was deemed by some to be unsuitable for active combat when severe shortcomings were highlighted by a Russian defense researcher, Andrei P. Anisimov.
High on the list of its shortcomings were the reduced control range from remote operators of 3-500 meters (1/3 of a mile) over the specified design parameters of just under two miles and periods where the operators lost control altogether, which was not something desirable in a weaponised remote control vehicle, or UCGV (unmanned combat ground vehicle). Problems with the targeting software and failures to launch missiles were also reported in 2018.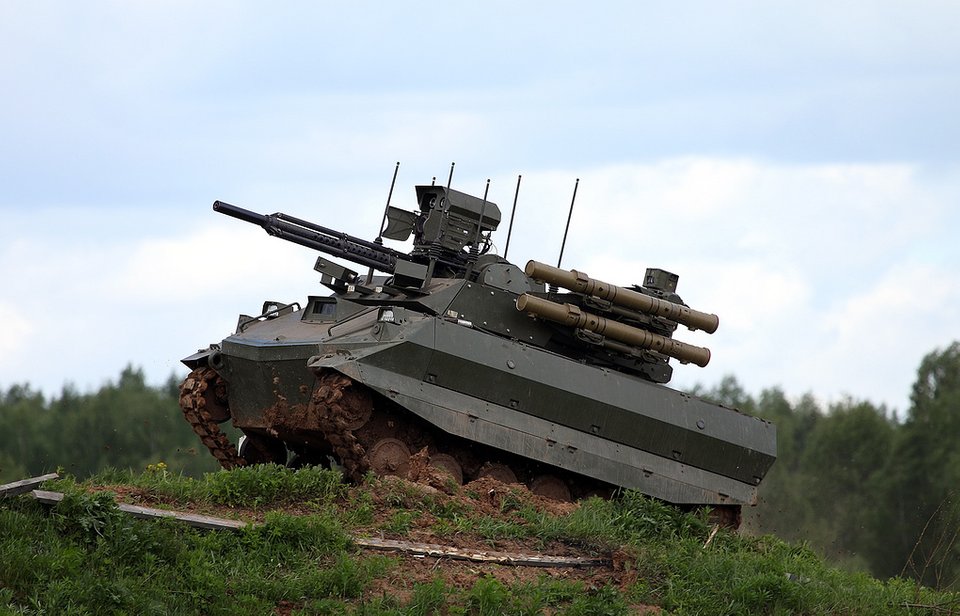 It was reported that throughout 2018 improvements were made to the original design, software and armaments which led to the robot tank being officially adopted into the Russian Army on January 25th 2019.
| | Uran-9 UCGV |
| --- | --- |
| Active: | 2018 |
| Crew: | 0 |
| Weight: | 12 metric tons |
| Length: | 16ft 9in (5.12 m) |
| Height: | 8ft 2in (2.5m) |
| Width: | 8ft 4in (2.53m) |
| Weapons: | Main: One 30 mm 2A72 autocannon ABM M30-M3 modification. Secondary: 1 × 7.62mm PKT/PKTM 4 × 9M120 Ataka anti-tank missiles 6 (now 12) x Shmel-M thermobaric rocket launchers |
| Armor | Classified |
| Engine: | Model V-84MS 12-cylinder diesel, 840hp |
| Speed: | 35 km/h |
| Range: | 2 miles from control station |