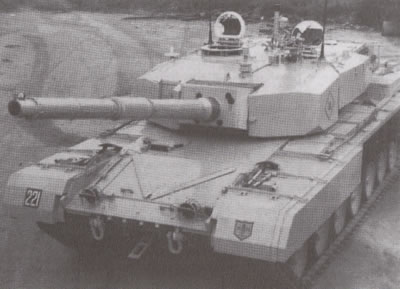 Last updated on February 17th, 2019 at 09:46 pm
The Arjun main battle tank was designed to be a replacement for India's Vijayanta MBT.
It was named after Arjuna, a warrior prince in the Mahabharata.
Development of the Arjun main battle tank began in 1974. However, delays prevented the first prototype from being finished until 1984, and the tank did not enter production until 2004.
After being tested against the Russian T-90 main battle tank in 2010, the Arjun entered service in March 2011.
Kraus Maffei, who designed Germany's Leopard 2 tank, helped to design the Arjun MBT.  Consequently, the Arjun is very similar to the Leopard 2.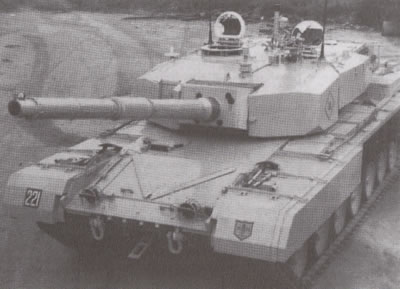 The Arjun main battle tank uses a new type of modular composite armor, known as Kanchan armor, which was developed in India.  Kanchan armor consists of composite armor sandwiched inside a type of steel armor known as rolled homogenous armor (RHA).
Explosive reactive armor can be fitted to the Arjun for added protection.
The Arjun main battle tank has a hydropneumatic suspension with seven road wheels on each side.
The Arjun is powered by a 1400 hp diesel engine. Maximum speed is 43 miles per hour (7okph) and maximum range is 280 miles (450 km).  External fuel tanks can be fitted to the rear of the hull to increase the range.
Main armament is a fully stabilized 4.72 inch (120mm) rifled gun that was developed in India. The gun has a fume extractor and a thermal sleeve.  It can fire HEAT, HESH and APFSDS rounds as well as LAHAT anti-tank missiles.
Secondary armament consists of a Mag TK 715 0.3 inch (7.62mm) coaxial machine gun,  a HCB 0.5 inch (12.7mm) anti-aircraft machine gun and 9 pairs of smoke grenade launchers.
A   four man crew operates the Arjun. The driver sits in the front right of the hull. The commander and gunner sit in the right side of the turret and the loader sits on the left side of the turret.
The powerpack is in the back of the tank.
The Arjun main battle tank has a computerized fire control system, a laser rangefinder, an NBC system and night vision equipment.
An upgraded version of the Arjun main battle tank, the Mark II, is under development.  Trials of the Arjun Mark II MBT began in June 2011, and the new tank is expected to enter service in 2014.
| | Arjun MBT |
| --- | --- |
| Active: | 2011 |
| Crew: | 4 |
| Weight: | 58 tons (58,500kg) |
| Length: | 34ft 10in (10.64m) with gun forwards |
| Height: | 7ft 7in (2.32m) to turret top |
| Width: | 12ft 8in (3.86m) |
| Weapons: | Main – 4.72 inch (120mm) rifled gun, Secondary – 1 x Mag TK 715 0.3 inch (7.62mm) coaxial machine gun, 1 x HCB 0.5 inch (12.7mm) anti-aircraft machine gun, 9 pairs of smoke grenade launchers |
| Armor | Classified |
| Engine: | MTU 838 KA 501 10-cylinder liquid-cooled diesel, 1400hp |
| Speed: | 43mph (70kph) |
| Range: | 280 miles (450 km) |