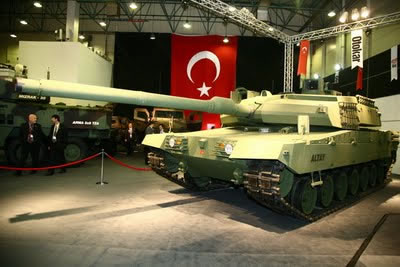 Last updated on February 19th, 2019 at 10:55 pm
The Altay MBT will be Turkey's first indigenous main battle tank. In 2005, Defense Industries of Turkey (SSM) launched the Altay National Tank Project. Otokar was chosen as the main contractor in 2008, and development of the MBT began in 2009. Otokar is working alongside South Korea's Hyundai Rotem and its subcontractors Aselsan, MKEK and Roketstan.
The Altay is named after General Fahrettin Altay, commander of the V Cavalry Corps during Turkey's War of Independence.
A 3D image of the tank was made publicly available in 2010, and a full scale mockup was revealed in 2011 at IDEF 11, Turkey's International Defense Industry Fair.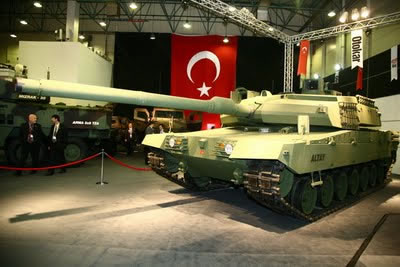 The first prototypes were launched in 2012. It Altay expected to be in service by 2015 or 2016.
The Altay has seven tracked wheels and a hydropneumatic suspension. The fighting compartment is in the middle, and the power pack is in the back.
Armament will include a 4.72 inch (120mm) 55 caliber smoothbore gun with a thermal sleeve, a 0.3 inch (7.62mm) coaxial machine gun and a 0.5 inch (12.7mm) heavy machine gun on the right side of the turret.
The tank will carry four crewmembers: driver, commander, gunner and loader. The driver will sit in the front. The commander and gunner will sit on the right side of the turret, while the loader will sit on the left. The commander will operate the heavy machine gun.
The Altay is expected to use technology systems developed by Hyundai Rotem for South Korea's K2 Black Panther MBT.
Roketsan is developing modular reactive composite armor, which will protect against biological, chemical and radiological attacks. MKEK is developing the main gun system, and Aselsan is developing an active protection system and an advanced Volkan-III fire control system.
Turkey is planning to manufacture four batches of 250 tanks each, for use by the Turkish Land Forces Command (TLFC).
| | Altay MBT |
| --- | --- |
| Active: | Est. 2015-2016 |
| Crew: | 4 |
| Weight: | 65 tons (65,000kg) |
| Length: | 23ft 11in (7.3m), 33ft 9in (10.3m) with gun forward |
| Height: | 8ft 6in (2.6m) |
| Width: | 12ft iin (3.9m) |
| Weapons: | Main – MKEK 4.72 in (120mm) 55 caliber smoothboregun, Secondary -1 x 0.3in (7.62mm) coaxial machine gun, 1 x 0.5 in (12.7mm) heavy machine gone |
| Armor | Modular reactive composite armor |
| Engine: | Diesel |
| Speed: | 43mph (70kph) |
| Range: | 311 miles (500 km) |