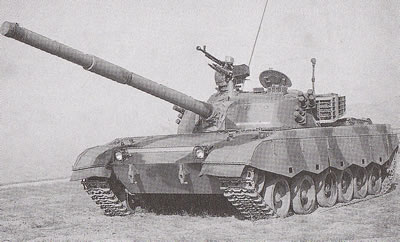 Last updated on February 19th, 2019 at 10:36 pm
China's Type 85 main battle tank was designed to be an upgraded version of the Type 80 MBT.
Type 85-I never got past the prototype stage. However, the next variant, Type 85-II, was able to enter production successfully. It was introduced in 1991.
The Type 85-II main battle tank uses many of the systems of the Type 80 main battle tank, but it has a different hull and turret and better armor.
The hull and turret on the Type 85-II MBT are made of welded steel. There is an extra layer of composite armor on the glacis plate and on the front and sides of the turret.
Six road wheels are on each side of the tank. The idler is at the front and the drive sprocket is in the rear. The upper part of the suspension is covered by a skirt.
The main weapon on the Type 85-II main battle tank is a fully stabilized 4.92 inch (125mm) smoothbore gun, which can be elevated from -6 degrees to +14 degrees.
Secondary armament includes a 0.3 inch (7.62mm) coaxial machine gun, a 0.5 inch (12.7mm) anti-aircraft machine gun and six pairs of smoke grenade launchers.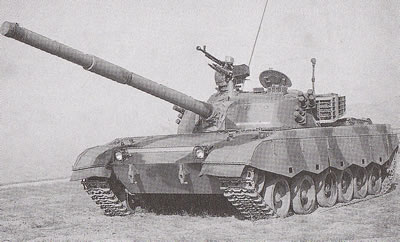 The type 85-II main battle tank has an automatic loader, reducing the crew from four to three – driver, commander and gunner.
The driver sits in the front left of the hull. There is some ammunition stored on his right. The commander sits in the right side of the turret and the gunner sits in the left side.
An advanced computerized fire control system that has a laser rangefinder allows the gunner to engage moving targets while the tank itself is moving.
A variant of the Type 85-II, the type 85-IIA, was introduced at the same time. It is shorter and heavier than the Type 85-II.
Type 85-IIM, another variant has better armor protection and an improved fire control system.
Type 85-IIAP is a variant that is built in Pakistan under license.
The Type 85-III main battle tank, a variant which first appeared in 1997, has a more powerful 1000hp diesel engine, a new transmission, and explosive reactive armor on the turret and the front of the hull.
| | Type 85-II MBT |
| --- | --- |
| Active: | 1991 |
| Crew: | 3 |
| Weight: | 40 tons (41,000kg) |
| Length: | estimated: 24ft (7.3m), 33ft 8in (10.28m) with gun forward |
| Height: | 7ft 6in (2.3m) to turret top |
| Width: | 11ft 3in (3.45m) |
| Weapons: | Main – 4.92in (125mm) gun, Secondary – 1 x 0.3in (7.62mm) coaxial machine gun, 1 x 0.5in (12.7mm) anti-aircraft machine gun, 6 pairs of smoke greande launchers |
| Armor | Classified |
| Engine: | V-12 supercharged diesel, 730hp |
| Speed: | 36mph (57.25kph) |
| Range: | estimated: 311 miles (500 km) |