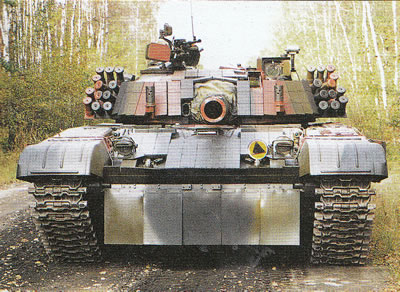 Last updated on February 19th, 2019 at 10:33 pm
The PT-91 Twardy main battle tank is a Polish main battle tank that is based on Russia's T-72 MBT.
Twardy is Polish for "hard" or "resilient".
A prototype of the PT-91 main battle tank was built in 1992 and the tank entered service in 1993.
The PT-91 Twardy main battle tank incorporates many improvements over the T-72, including a more powerful engine, a computerized fire control system, increased protection against mines and 12 pairs of electrically operated smoke grenade launchers.
A type of explosive reactive armor, known as Erawa, which was developed in Poland, is fitted to the front of the hull and the front and sides of the turret. Erawa consist of layers of explosives that are sandwiched between steel plates.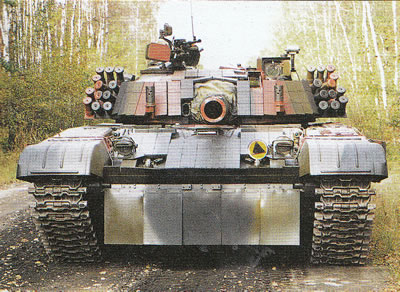 The PT-91 main battle tank uses a Polish-developed laser warning system known as Obra-3.
There are six road wheels and three track return rollers on each side of the tank. The idler is in the front and the drive sprocket is int herear. A skirt with explosive reactive armor covers the upper part of the suspension.
Main armament consists of a 4.92 inch (125mm) smoothbore gun with a thermal sleeve and fume extractor. The gun can be elevated from -6 to +13 degrees.
The turret has 360 degree traverse.
Secondary armament includes a 0.3 inch (7.62mm) coaxial machine gun and a 0.5 inch (12.7mm) anti-aircraft machine gun.
A three man crew, consisting of driver, commander and gunner, operates the PT-91 Twardy main battle tank. The tank has an automatic loader, so a human loader is not necessary. The driver sits in the front of the hull. The commander sits in the right side of the turret and the gunner sits in the left side of the turret.
The PT-91 Twardy MBT has been exported to Malaysia.
| | PT-91 Twardy MBT |
| --- | --- |
| Active: | 1993 |
| Crew: | 3 |
| Weight: | 45 tons (45,300kg) |
| Length: | 22ft 9in (6.95m), 31ft 8 in (9.67m) with gun forwards |
| Height: | 7ft 2in (2.19m) to turret top |
| Width: | 11ft 9in (3.59m) |
| Weapons: | Main – 4.92in (125mm) smoothbore gun, Secondary – 1 x 0.3in (7.62mm) coaxial machine gun, 1 x 0.5in (12.7mm) anti-aircraft machine gun, 12 pairs of smoke grenade launchers |
| Armor | Classified |
| Engine: | PZL-Wola Type S-12U supercharged diesel, 850hp |
| Speed: | 47mph (60kph) |
| Range: | 404 miles (650 km) |