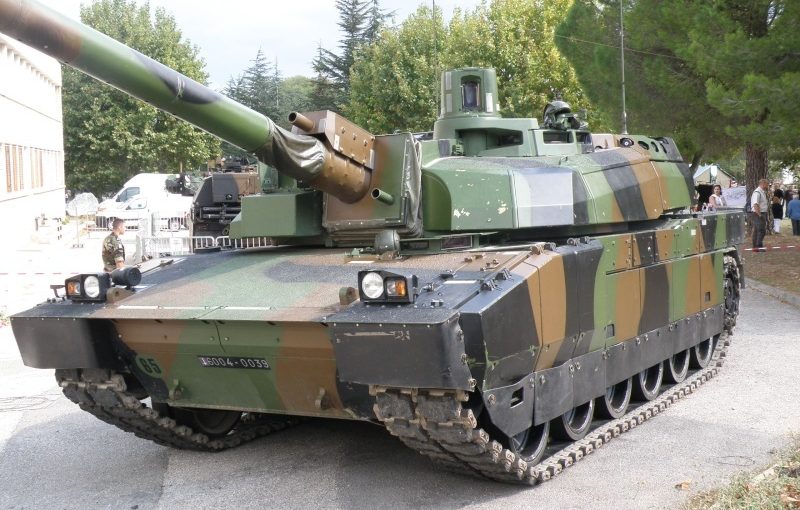 Last updated on February 19th, 2019 at 10:48 pm
The French company GIAT (now Nexter) designed the Leclerc main battle tank to be a replacement for the AMX-30 main battle tank.
Development of the Leclerc main battle tank began in 1983. The first prototype was finished in 1989, and the first production model was completed in 1991. The Leclerc MBT entered service with the French army the following year.
It was named for General Philippe Leclerc de Hauteclocque, who led the French resistance during World War II.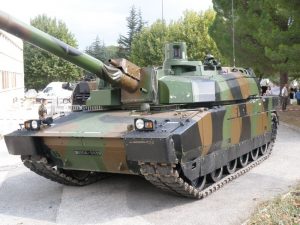 The Leclerc main battle tank is protected by advanced modular armor, a composite armor that combines ceramic, steel and Kevlar.   The armor is divided into separate modules. This is advantageous because if a module is damaged, it can be replaced easily.
A 1500 hp SACM V8X 8-cylinder Hyperbar diesel engine powers the Leclerc main battle tank.



There is a hydropneumatic suspension, with six pairs of road wheels. The idler is in the front and the drive sprocket is in the back.
Armored skirts cover the upper part of the suspension.
The maximum road speed of the Leclerc MBT is 44 mph (71 kph). Maximum road range is 342 miles (550 km).
Fuel tanks can be attached to the rear of the hull to increase the Leclerc's operational range.
The turret is power-operated and has full 360 degree traverse.
Main armament on the Leclerc main battle tank is a 4.72 inch (120mm) smoothbore gun that can be elevated from -8 degrees to +15 degrees. A computer is used to aim the gun.
The gun can fire HEAT (High Explosive Anti Tank) rounds and APFSD (Armor Piercing Fin Stabilized Discarding Sabot) rounds.
The main gun has an autoloader that holds 22 rounds of ammunition that are ready for firing.
Secondary armament on the Leclerc includes a 0.5 inch (12.7mm) coaxial machine gun and a 0.3 inch (7.62mm) anti-aircraft machine gun.
The anti-aircraft gun is externally mounted to the roof of the turret. It is operated by remote control.
There are 9 smoke grenade dischargers on each side of the turret.
Because there is no need for a human loader, the crew of the Leclerc is reduced to three men – driver, commander and gunner. The driver sits at the front left of the hull. There is some ammunition stored on his right.
The commander and gunner sit in the turret – the commander on the left and the gunner on the right.
The Leclerc main battle tank has a digital fire control system, passive night vision equipment and NBC protection.
Variants of the Leclerc main battle tank include an armored recovery vehicle.
A modified version of the Leclerc, which has been optimized for desert and tropical conditions, has been exported to the United Arab Emirates.  This variant uses a German MTU 883 V-12 diesel engine
The Leclerc main battle tank has been used in Kosovo and in Lebanon.
| | Leclerc MBT |
| --- | --- |
| Active: | 1992 |
| Crew: | 3 |
| Weight: | 54 tons (54,500kg) |
| Length: | 22ft 6in (6.88m), 32ft 4in (9.87m) with gun forwards |
| Height: | 8ft 3in (2.53m) to turret roof |
| Width: | 12ft 2in (3.71m) |
| Weapons: | Main – 4.72in (120mm) smoothbore gun, Secondary – 0.5in (12.7mm) coaxial machine gun, 0.in (7.62mm) anti-aircraft machine gun, 2 x 9 smoke graende dischargers |
| Armor | Classified |
| Engine: | SACM V8X 8-cylinder Hyperbar diesel, 1500 hp |
| Speed: | 44mph (71kph) |
| Range: | 342 miles (550km) |