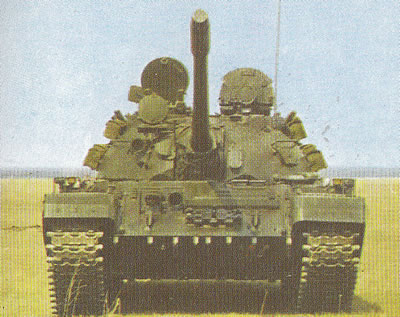 Last updated on February 19th, 2019 at 10:19 pm
The TM-800 medium tank is a Romanian tank based on the Soviet Union's T-54 and T-55 main battle tanks.
It was first produced in 1986.
The TM-800 medium tank has a 3.94 inch (100mm) main gun with a fume extractor near the muzzle.
The turret has full 360 degree traverse, and the gun can be elevated from -5 to +17 degrees.
Secondary armament on the TM-800 includes a 0.3 inch (7.62mm) coaxial machine gun and a 0.5 inch (12.7mm) anti-aircraft machine gun. There are 5 pairs of smoke grenade launchers.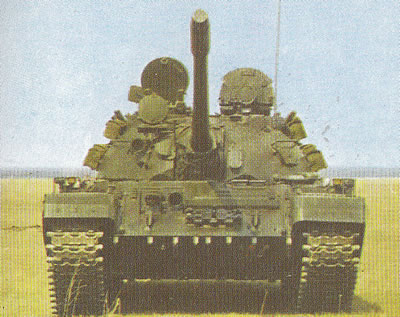 Unlike the T-54/T-55, the TM-800 does not have an exhaust outlet on the left side of the hull.
A four man crew – driver, commander, gunner and loader – operates the TM-800 main battle tank.
The commander, gunner and driver have infrared night vision equipment.
The TM-800 has a torsion bar suspension. While the T-54/T-55 has five pairs of road wheels, the TM-800 has six pairs. The idler on the TM-800 is at the front and the drive sprocket is in the back. The upper part of the suspension is covered by a skirt.
A dozer blade and a mine clearing system can be fitted to the front of the TM-800's hull.
The TR-85 main battle tank, an upgraded version of the TM-800, has a laser rangefinder.
In 1994, the TR-85 was upgraded to NATO standards and was designated the TR-85M1 main battle tank. The TR-85M1 MBT has additional armor over the front of the turret as well as many other improvements.
| | TM-800 Medium |
| --- | --- |
| Active: | 1986 |
| Crew: | 4 |
| Weight: | 44 tons (45,000kg) |
| Length: | 22ft 1in (6.74m), 29ft 6 in(9m) with gun forwards |
| Height: | 7ft 8in (2.35m) to turret top |
| Width: | 10ft 9in (3.3m) |
| Weapons: | Main – 3.94 in(100mm) gun, Secondary – 1 x 0.3 inch (7.62mm) coaxial machine gun, 1 x 0.5 inch (12.7mm) anti-aircraft machine gun, 5 pairs of smoke grenade launchers |
| Armor | Classified |
| Engine: | Diesel, 830hp |
| Speed: | 40mph (64kph) |
| Range: | 311 (500 km) |