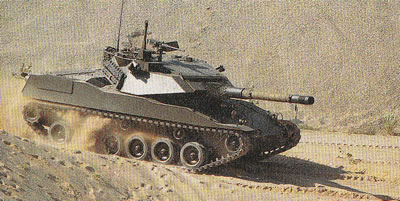 Last updated on February 19th, 2019 at 10:17 pm
The Stingray light tank is an American tank that was built for export. It has only ever been used by the Royal Thai Army. The Stingray was designated as private venture by the American company Textron Marine and Land Systems (formerly Cadillac Gage Textron).
In 1985, the first prototype of the Stingray was completed. The first production vehicles were delivered to Thailand in 1988.
The Stingray light tank weighs 21 tons (21,205kg) when combat ready. It is covered in welded Cadalloy steel armor.
There is a torsion bar suspension with six pairs of small road wheels and three track return rollers. The drive sprocket is in the back and the idler is in the front. There are no side skirts.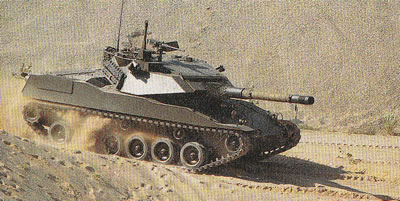 A 535 hp Detroit Diesel Model 8V-92A 8-cylinder turbocharged engine powers the Stingray light tank.
Main armament on the Stingray is a 4.13 inch (105mm) Low Recoil Force main gun that is based on the British Royal Ordnance L7A3. The main gun is stabilized and has a thermal sleeve, a muzzle brake and a fume extractor. The gun can be elevated from -7.5 degrees to +20 degrees and can fire the full range of NATO ammunition.
Secondary armament includes a 0.3 inch (7.62mm) coaxial machine gun, a 0.5 inch (12.7mm) anti-aircraft machine gun, which is mounted on the right side of the turret roof, and four pairs of smoke grenade dischargers.
The Stingray light tank is operated by a four man crew. The driver sits in the front of the hull. The commander, gunner and loader sit in the turret – the commander and gunner on the right and the loader on the left. The powerpack is in the back of the tank.
The tank has a laser rangefinder, night vision equipment and an NBC system.
An upgraded version of the Stingray, the Stingray II, first appeared in 1996. The Stingray II has better armor and an improved fire control system. Side skirts, which protect the upper part of the suspension, have been added.
| | Stingray Light |
| --- | --- |
| Active: | 1988 |
| Crew: | 4 |
| Weight: | 21 tons (21,205kg) |
| Length: | 21ft 1in (6.45m), 30ft 6in (9.30m) with gun forwards |
| Height: | 8ft 4in (2.55m) overall |
| Width: | 8ft 10in (2.71m) |
| Weapons: | Main – 4.13in (105mm) gun, Secondary – 0.3in (7.62mm) coaxial machine gun, 0.5 inch (12.7mm) anti-aircraft machine gun |
| Armor | Classified |
| Engine: | Detroit Diesel Model 8V-92TA, 535 hp |
| Speed: | 42mph (67kph) |
| Range: | 300 miles (483 km) |