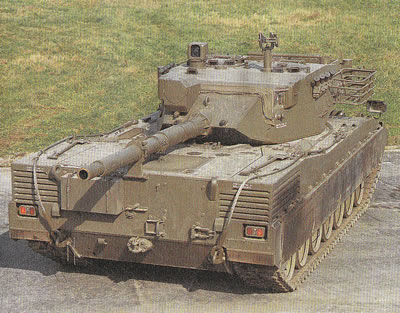 Last updated on February 19th, 2019 at 10:17 pm
Design of the Italian OF-40 main battle tank began in 1977, as a joint venture between Oto Melara (now Otobreda) and Fiat. The powerpack was designed by Fiat, while the tank's overall design was Oto Melara's responsibility. Oto Melara was also responsible for production.
The OF-40 main battle tank was designed specifically for export. It is in service only with the United Arab Emirates.
In 1980, the first prototype was finished.
The UAE received the first 18 tanks, version Mark 1, the following year.
Later on, the UAE purchased 18 Mark 2s, with upgraded fire control systems, as well as three armored recovery vehicle variants.
The original Mark 1s were eventually upgraded to Mark 2s.
The OF-40 uses some of the components of the Leopard 1 main battle tank.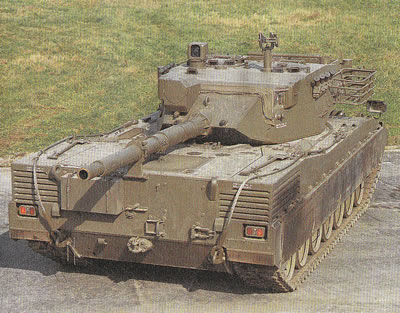 There are seven road wheels on the OF-40 MBT, which has a torsion bar suspension. The idler is in the front and the drive sprocket is in the back. There are five track return rollers. Skirts usually cover the upper part of the suspension.
The hull is made of all-welded steel.
On each side of the hull rear, there are exhaust outlets with horizontal louvers.
Main armament on the OF-40 main battle tank is a 4.13 inch (105mm) rifled gun with a thermal sleeve and a fume extractor. The main gun can be elevated from -9 degrees to +20 degrees and fires standard NATO ammunition. The turret, which also is of all-welded steel, has full 360 degree traverse.
Secondary armament includes a 0.3 inch (7.62mm) coaxial machine gun and either a 0.3 inch (7.62mm) or 0.5 inch (12.7mm) anti-aircraft machine gun.
A four man crew operates the OF-40 main battle tank. The driver sits in the front right of the tank, with an NBC pack and some ammunition on his left. The commander, gunner and loader sit in the turret – the commander and gunner on the right and the loader on the left.
Instead of a commander's cupola, the commander has a stabilized day/nigh t roof sight with night vision equipment.
The engine and transmission are in the back.
The Palmaria 6.1 inch (155mm) self-propelled howitzer is based on the OF-40. It was purchased by Nigeria and Libya. Argentina has purchased the Palmaria howitzer and fitted it with a different chassis.
The OF-40 main battle tank is no longer being produced.
| | OF-40 MBT |
| --- | --- |
| Active: | 1981 |
| Crew: | 4 |
| Weight: | 45 tons (45,500kg) |
| Length: | 22ft 7in (6.89m), 30ft 2 in (9.22m) with gun forwards |
| Height: | 8ft (2.45m) to turret top, 8ft 9in (2.68m) with sight |
| Width: | 11ft 6in (3.51m) with skirts |
| Weapons: | Main – 4.13in (105) gun, Secondary – 1 x 0.3in (7.62mm) coaxial machineg gun, 1 x 0.3in (7.62mm) or 0.5in (12.7mm) anti-aircraft machine gun |
| Armor | Classified |
| Engine: | MTU MB 838 Ca M500 V10 supercharged diesel, 830hp |
| Speed: | 37mph (60kph) |
| Range: | 373 miles (600 km) |